2009: Lost Memories
(2002)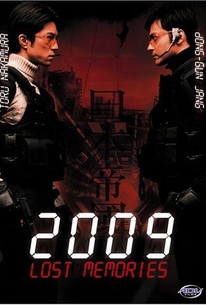 Movie Info
This action thriller with a sci-fi twist takes place in an alternate dimension in which Korea has been subjected to Japanese rule for more than 100 years. Why? Seems that in 1909, a Korean nationalist assassinated a Japanese statesman, which set events in motion that changed history (in this world, Japan won World War II). It's now 2009, and the Korean independence movement is heating up again ... but will this time be any different?
Critic Reviews for 2009: Lost Memories
Audience Reviews for 2009: Lost Memories
[font=Century Gothic]"2009 Lost Memories" takes place in an alternate near future where Japan never relinquished control of Korea in 1945(in fact, in this alternate reality, Japan was allied with the United States in World War II which does not make any sense unless they fought the Soviet Union and Germany. Even then...). The divergent event is an assassination of Ito Hirobumi, the former Resident-General of Korea, on a train platform in Manchuria in 1909. In the true reality, the assassination succeeded; in the alternate reality of the movie, the assassination was prevented.(Thanks to Wikipedia for the info.) [/font] [font=Century Gothic][/font] [font=Century Gothic]In 2009, terrrorists have attacked a gala at the Inoue Foundation in Seoul. Agents of the Japanese Bureau of Investigation arrive and stop the attack and save the hostages. But Agent Sakamato starts to suspect that something is not quite right and pursues an investigation, not only of the terrorists, but of the mysterious Inoue Foundation.(Sakamato seems to be the only person of Korean descent working in his unit.)[/font] [font=Century Gothic][/font] [font=Century Gothic]"2009 Lost Memories" is a stylish action movie with science fiction overtones that has good ideas at its heart and some thoughts concerning identity but merrily goes off the deep end towards the finish. The start is not that great either.(I don't mind a gunfight at the beginning of a movie but I do have to know what is at stake.) Also, it is very slow through some parts and has some definite issues with logic. Unlike "Code 46", the film does not do a very good job of portraying a near future society. [/font] [font=Century Gothic][/font] [font=Century Gothic][/font] [font=Century Gothic][/font] [font=Century Gothic] [/font]
2009: Lost Memories was a very ambitious project for Korean cinema. It tries to emulate big name blockbusters, with varying degrees of success. The story itself is very interesting, being set in an alternate Korea, which is now part of Japan. The film certainly piles on a lot of entertaining action but the real problem here is the grimy cinematography, it makes it look cheaper than it really is. The action scenes were also not shot at a higher FPS, resulting in the slow-motion footage becoming jumpy and jarring. This is a huge mistake for an action film and blemished each scene it was used in. For a 135 minute running time, the film does manage to hold the attention.
Luke Baldock
Super Reviewer
Interesting premise, but disappointing execution.
Anthony Valletta
Super Reviewer
2009: Lost Memories Quotes
There are no approved quotes yet for this movie.