200 Cigarettes
(1999)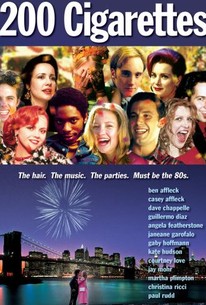 Movie Info
A comedy set in New York's East Village on New Year's Eve 1981, "200 Cigarettes" follows various young couples and friends whose lives will intersect at a party that night in a downtown loft. Anyone who has been on the town the last night of the year knows the familiar feelings: sentimental recollections, uncertainty about the future and fear that time is running out are mingled with the excitement of a cold winter night and the anticipation of a new love when the clock strikes 12. In "200 Cigarettes," the evening's magic pushes each character to share a secret or create a pact, rush toward calamity or run from danger, break up or hook up. But by evening's end, the characters will have one thing in common: all will be revealed in the clear light of the morning after.
Critic Reviews for 200 Cigarettes
Audience Reviews for 200 Cigarettes
A stupid and misguided comedy that has many funny moments but whose characters are empty and only follow the needs of a lame script - which also has no organic reason to be set in 1981 other than to be packed with 200 songs from back then.
Carlos Magalhães
Super Reviewer
This is my New Years movie! Like folks watch A Christmas Story or The Grinch for Christmas.... this is New Years for me!
Thomas Johnston
Super Reviewer
MisterYoda ?
Super Reviewer
200 Cigarettes Quotes
There are no approved quotes yet for this movie.