21 Grams
(2003)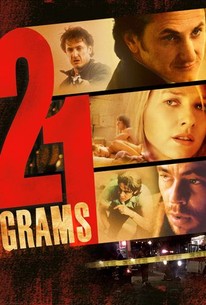 TOMATOMETER
AUDIENCE SCORE
Critic Consensus: Alejandro González Iñárritu deftly weaves an uncommonly structured narrative with panache in 21 Grams, a stylish, haunting drama full of fine performances.
Movie Info
College professor Paul Rivers and his wife Mary find their union precariously balanced between life and death. He is mortally ill and awaiting a heart transplant, while she hopes to become pregnant with his child through artificial insemination. Cristina Peck, having matured since her reckless past, is a beloved older sister to Claudia, a good wife to Michael and loving mother to two little girls. Her family radiates hope and joy. Much farther down the socioeconomic scale, ex-con Jack Jordan and his wife Marianne struggle to provide for their two children while Jack reaffirms his commitment to religion. A tragic accident that claims several lives places these couples in each other's orbit. In the aftermath, Paul confronts his own mortality, Cristina takes action to come to terms with her present and perhaps her future, and Jack's faith is put to the test. If spiritual equilibrium is to be regained by any one of them, it could come at great cost to the others. Yet the will to live, and the instinct to reach out to another person for support, remains ever present among them all.
News & Interviews for 21 Grams
Critic Reviews for 21 Grams
Audience Reviews for 21 Grams
Well acted but incredibly downbeat movie is a hard watch.
I do enjoy films that employ interwoven storylines and movies that feature non-linear narratives. Sometimes, I like films that employ both. However, I don't like all films like that, or think that all films that use such techniques need to be done that way. This is one of those films. This is a look at the lives of three broken people: a feverishly born again ex-con, a critically ill college professor, and a housewife with a tainted past. Their lives intersect following a bad car accident, and the films looks at their lives before, during, and after the crash, examining the consequences of things, and the interplay that goes on between them. This is some intereting stuff, and I didn't mind that it was downbeat and depressing as all hell; I just didn't care for the jarring editing or feel that this needed to be told out of chronological order. It really seemed to have no other purpose than to tell a story in a unique way or to be interesting. That doesn't work when this sort of thing is old hat and the way it is done doesn't make things more interesting. It really just makes things seem jumbled and fractured, and not in a good way. At least the story arcs are rather engaging, and the film has decent characters played by wonderful actors who give some compelling and great performances. My favorite was definitely Del Toro, though Watts gives a bold and courageous performance, while Penn seemed more low key though still commanding and powerful. I could have used a bit more Leo and definitely some more DuVall, but at least we got to see them at all. The film brings up some interesting concepts and has a lot of nice things to offer, but I think it would have fared far better had they just played it straight. Doing something like this seemingly just for the sake of it takes away all of the powerful that the thing had in the first place, kinda like using Dutch angles without really understanding why they're effective when used properly. So yeah, this film is decent, and has its moments, but it's a mess and doesn't hold up as being as strong as it should have been, so I'm on the fence, but mostly leaning towards a thumbs up.
Chris Weber
Super Reviewer
½
I love this style of film. I was almost lost during a few scenes, but at the end some of the loose ends were connected and it really turned this film around for me. What a story! Excellent performances from Penn, Del Toro, and Watts, as well as Charlotte Gainsbourg and Melissa Leo. Del Toro definitely deserved their Oscar nominations. Great direction also from Inarritu; it takes a lot to direct such an intertwined film as this, but he delivers. Excellent film, one of the best of 2003!
Jameson Worley
Super Reviewer
21 Grams Quotes
| | |
| --- | --- |
| Paul: | There is a number hidden in every act of life. |
| | |
| --- | --- |
| Jack: | God even knows when a single hair moves on your head. |
| | |
| --- | --- |
| Paul: | [Quoting a Poem] The earth turned to bring us closer. It turned on itself and in us, until it finally brought us together in this dream. |
| Paul: | [quoting a Poem] The earth turned to bring us closer. It turned on itself and in us, until it finally brought us together in this dream. |
| | |
| --- | --- |
| Paul: | How many lives do we live? How many times do we die? They say we all lose 21 grams... at the exact moment of our death. Everyone. And how much fits into 21 grams? How much is lost? When do we lose 21 grams? How much goes with them? How much is gained? How much is gained? Twentyone grams. The weight of a stack of five nickels. The weight of a hummingbird. A chocolate bar. How much did 21 grams weigh? |
| Paul: | How many lives do we live? How many times do we die? They say we all lose 21 grams... at the exact moment of our death. Everyone. And how much fits into 21 grams? How much is lost? When do we lose 21 grams? How much goes with them? How much is gained? How much is gained? Twenty-one grams. The weight of a stack of five nickels. The weight of a hummingbird. A chocolate bar. How much did 21 grams weigh? |