2:37
(2006)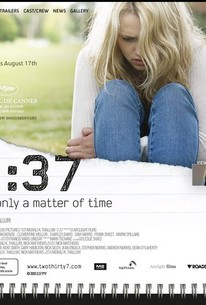 Movie Info
A suicide victim has been discovered in the bathroom of Adelaide High School at precisely 2:37 p.m., and now time is about to shift back to the morning of this strange tragedy to show just how any of six potential victims could have fallen victim to that overwhelming ennui in director Murali K. Thalluri's quietly desperate drama. Life as a teenager is far from easy in the new millennium, and sometimes the comforts of modern society can inadvertently lead to isolation. A series of dark secrets are about to emerge from the hallways of Adelaide High, from the struggles of an unwanted pregnancy to the all-consuming inner turmoil of an outwardly confident athlete, the daily trials faced by an abused outcast, the social pressures that pile onto a girl with an eating disorder, the pressures placed upon a "straight 'A'" student, and the drug-addled efforts of a desperate teen to elude his inner-demons, it seems like any number of students could have made that unfortunate, and irreversibly permanent, decision.
Audience Reviews for 2:37
½
A very predictable story and what a crap copy of "Elephant" (shooting style and script development).


Rubia Carolina
Super Reviewer
½
2:37 starts with blood coming from under a door and the implication that somebody is injured. The film then takes place over one school day leading up to the events of the beginning. As we see the lives of many students it becomes apparent they all have a reason to hurt themselves or each other. Pregnancy, incest, homosexuality, wetting yourself, all come into play as the motives. Like Elephant we see the same events from different perspectives and it's all kept relatively insular. The performances are great, but it also seems melodramatic as everybody has a problem. It soon becomes a bit obvious that it's the ones that don't speak up that have the real problems. It's a film about being selfish and not noticing the lives and problems of those around you.
Luke Baldock
Super Reviewer
½
Directed by: Murali K. Thalluri. Starring: Teresa Palmer, Frank Sweet, Charles Baird, Clementine Mellor. << "You gotta be tough, otherwise people will stomp you down to the fucking ground, it's a jungle and if you can't fake your way through school, how the fuck are you going to make it in the real world?" >> The story follows a group of 6 teenagers over the course of one day at a contemporary school in Australia (similar to any around the world). It all starts at the end of the day, with a suicide of one of these students...but who? What follows is a trip into the lives of each individual and the struggles with their personal demons. Murali K. Thalluri has a gift for cinema. He achieves what so many try to do and that is to grab the audience and shake them up till they have felt what he is trying to deliver, but never shying away from the characters, the story and its themes. His screenplay's basic plot and ideas are nothing new, it covers every common problem with teens such as bullying, sex, sexuality, suicide, just to name a few...but he tackles all of them with such unforced power and grittiness, he tackles the themes realistically to the point where you can't help but turn your head away. This skill and depth really grabs an audience like me, out to find something fresh and with a reasonable amount of depth and understanding for its characters, but he also uses small conventional twists to grab the others. He uses a lot of 'Steadicam' style shots with long takes, but he crafts every story together professionally and the brilliant use of editing makes it very compelling, as does the cinematography which is beyond impressive, capturing the right tone in every aspect. What impressed me was the cast. A group of unprofessional, unknown Australians ain't expected to grab an audience on first go (for some), but anyone who thinks that (like I did) is wrong. Each character is given there own powerful story and every actor delivers outstanding performances, drawing the emotional power from the complexities of there characters. I can't just mention one or two names, as the entire cast impresses. Too many compare this to 'Elephant', all because of similarities in basic plot. 'Elephant' is an art film and a completely different style, 2:37 is different. Murali K. Thalluri is a name to look out for and it excites me that such a young man (22) living so close to home creates such a shocking and powerful debut. One of the very best Australian debuts I have ever seen, sure, we have all been through school in our lives and we know how some of the common problems are and there's nothing new here with its basic themes, but the unknown depth of these themes and how it covers teen angst with such knowledge and power is brilliant. Disturbing and very hard to watch, 2:37 hit a note with me and deserves worldwide recognition.
88/100 << "People are scared of dying...I'm not..." >>
Craig Sutcliffe
Super Reviewer
2:37 Quotes
There are no approved quotes yet for this movie.