247F
(2011)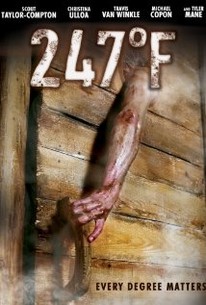 AUDIENCE SCORE
Critic Consensus: No consensus yet.
Movie Info
Jenna (Scout Taylor-Compton) is traumatized when she is trapped in a small vehicle after a car accident, forced to observe the mangled corpse of her fiance in the driver's seat until help arrives. Fast forward three years, Jenna and her three friends travel to a lakeside cabin for a carefree weekend. The fun quickly becomes a nightmare when three of them end up locked in a compact, hot sauna. As fear sets in and Jenna reconnects with the horror of - the incident,- every minute counts and every degree matters as they fight for their lives in heat that is quickly approaching 247F - the temperature when the human body expires. See Scout Taylor-Compton and Tyler Mane reunited for the first time since the Rob Zombie's Halloween films in a thriller that will satisfy just about everything -- but your thirst.
Critic Reviews for 247F
All Critics (3) | Fresh (1) | Rotten (2) | DVD (1)
Two opportunities for interesting subplot that could alleviate the tedium of watching an unlikeable trio pant and bicker were missed.
...a passable yet underwhelming confinement thriller.
If you have to see "247F," see it for Christina Ulloa. You can skip everything else.
Audience Reviews for 247F
No idea why the temperature has to be 247F to kill them. Acting was not too bad because it was non-existent. Plot was simplistic: A bunch of college kids goes to lakeside vacation, then somehow they got addicted to the Sauna facility there, ultimately trapped inside. One of the girls is claustrophobic, which is not helping at all. The only one not trapped is drunk as hell, Some of the sound effects and cinematography are annoying, e.g. the constant close ups and random medium shots. Echos do not appear inside a sealed room OK, seriously, this film is a disgrace to the survival genre.
Sylvester Kuo
Super Reviewer
247F Quotes
There are no approved quotes yet for this movie.