24: Redemption
(2008)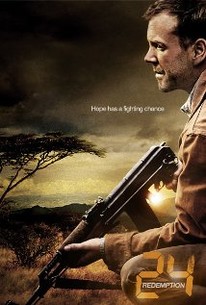 Movie Info
Film based on the real-time television series "24" (2001), which chronicles a day in the life of Federal Agent Jack Bauer (Sutherland).
News & Interviews for 24: Redemption
Critic Reviews for 24: Redemption
Audience Reviews for 24: Redemption
Kinda good but Jack Bauer didn't really do much like in the series, I wish he would have been in more action but what can you do... anyways it's just two hours of real time. Set 18 months where Season 6 of '24' left off, former government agent Jack Bauer is in a self-imposed exile in the fictitious African country of Sangala where he hopes to escape from a U.S. investigation of him for his past methods, and to run from his past. Bauer works at a mission school for orphaned children run by his friend Carl Benton. The country is at the mercy of a rogue warlord general named Juma who is plotting a coup to overthrow the government and his right-hand man Colonel Dubaku, is abducting orphan boys and forcibly recruiting them into Juma's army. Bauer and Benton must work together to save the dozen or so boys and try to get them out of the country before Juma takes over. Meanwhile in Washington D.C., it is Inauguration Day where the outgoing President Noah Daniels is handing over the presidency to the first female president Allison Taylor (Cherry Jones). Hearing about the coup, Daniels wants to evacuate the country before it falls to the rogue general, while Taylor thinks otherwise. Elsewhere, Taylor's son Roger and his fiancée Samantha get wind of information from a friend about suspicious money transactions where he works at a local brokerage firm. But neither he or Roger are aware that a corrupt corporate mogul, Jonas Hodges, is plotting with General Juma to overthrow the government for monetary purposes and will do anything to keep his nefarious plans under wraps.
Ok but not a patch on the series.
Mark Evans
Super Reviewer
Filling the gap between the seasons 6 and 7 this TV special combines most of the show's assets: Kiefer Sutherland BEING Jack Bauer, political intrigues, action in real time, annoyingly stupid minor characters, themes from actual world problems (in this case boy soldiers in Africa) and so forth. That's entertaining, but not entirely as nail-biting-exciting as the seasons usually are. Fans should still be pleased, if only as set up for season 7.
24: Redemption Quotes
There are no approved quotes yet for this movie.