27 Dresses
(2008)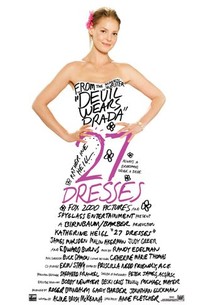 TOMATOMETER
AUDIENCE SCORE
Critic Consensus: The filmmakers perfectly follow the well-worn romantic comedy formula, rendering 27 Dresses clichéd and mostly forgettable.
Movie Info
Jane is an idealistic, romantic and completely selfless woman--a perennial bridal attendant whose own happy ending is nowhere in sight. But, when younger sister Tess captures the heart of Jane's boss--with whom she is secretly in love--Jane begins to reexamine her "always-a-bridesmaid" lifestyle.
News & Interviews for 27 Dresses
Critic Reviews for 27 Dresses
Audience Reviews for 27 Dresses
27 Dresses is a pointless, overdone, clichéd and predictable mess of a movie. I really hated the film, and thought it was a pointless affair that just relied on a poorly written script that doesn't offer anything entertaining or fun for the viewer. This is the type of film that relies on a strained, overdone formula, thus it suffers from start to finish. 27 Dresses just fails in terms of a comedy and is a painful movie, even by Rom-com standards. If you're looking for a fun, and entertaining genre comedy, watch Bridesmaids instead. This is just a film to be avoided and it just ends up being one of those pictures that was made to make a lot of money without thinking twice about creating worth seeing. In terms of talent, the cast is horrible, and none bring anything that can salvage this train wreck of a film. This is not worth your time, and if you're looking for a good rom-com, you won't find it. The film just fails on every single front, and it joins the long list of stupid genre comedies that ultimately fail to bring anything worthwhile to the genre. Avoid 27 Dresses, you'll be glad you did, it is a poorly constructed film that just doesn't satisfy the viewer. Even the target audience will surely think that this film is horrible and a dull, boring clichéd affair that really fails in terms of entertainment. Katherine Heigl is a horrible actress and should just quit acting. I find her really bland and quite frankly a forgettable actress. Her work will most likely be forgotten in another decade and she has no screen presence or acting ability. 27 Dresses is a film that should be avoided.
½
Two and a half stars is not a great rating, by any stretch, but I should note that I enjoyed this movie more than expected. I credit a lot of it to James Marsden. What was hard for me was believing in Katherine Heigl. The hardest part of acting is acting naturally, and I don't think there's anything natural about her whatsoever. I felt the same way about Malin Akerman. I could see them both acting. The story, however, is strong and the dialogue isn't too corny, and aside from the irrecoverable time spent on a Benny and the Jets singalong, it's a watchable movie. Not one I'll see again, but something guys can deal with when it's their girlfriends' turn to choose...
Daniel Perry
Super Reviewer
She's about to find the perfect fit. Saw it again! It was fun and entertaining. I'm one of the few guys in this world that like chick flicks so that's why I liked it. Nice cast Two things about Jane: she never says no to her friends (she's been a bridesmaid 27 times and selflessly plans friends' weddings), and she's in love with her boss, George, nurturing dreams of a lovely, romantic wedding of her own. She meets Kevin, a cynical writer who finds her attractive, and that same week her flirtatious younger sister Tess comes to town. Jane silently watches George fall for Tess, a manipulative pretender. Worse, Jane may be called upon to plan their wedding. Meanwhile, Kevin tries to get Jane's attention and has an idea that may advance his career. Can Jane uncork her feelings?
27 Dresses Quotes
| | |
| --- | --- |
| Jane: | I feel like I just found out my favourite love song was written about a sandwich. |
| | |
| --- | --- |
| Jane Nichols: | I am a very - good - caulker. |
| Kevin: | Likes caulk. (He says into his recorder.) |
| Kevin: | Likes caulk. [he says into his recorder] |
| | |
| --- | --- |
| Kevin: | What color is that? Vomit? |