28 Days
(2000)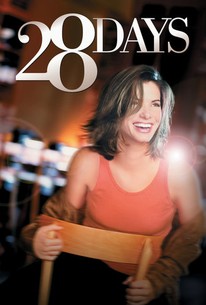 TOMATOMETER
AUDIENCE SCORE
Critic Consensus: Even though 28 Days is tackling a difficult subject, it comes off light and superficial, and maybe even a little preachy.
Movie Info
Gwen Cummings is a successful New York writer living life in the fast lane and everyone's favorite party girl. She shares this roller-coaster lifestyle of hopping from dance club to bar to hangover with boyfriend Jasper-handsome, magnetic and equally attracted to life on the wild side. Life is just an exercise in debauchery-until Gwen's ungraceful display at her sister Lily's wedding, when she gets drunk, commandeers the limo and earns herself a DUI and 28 days in court-ordered rehab. There, Gwen comes face to face with a unique set of rules (like no cell phones) and rituals (like chanting) embraced by an assortment of fascinating fellow re-habbers: Eddie, Gerhardt, Oliver, Andrea, Roshanda, and Billie Jean. A jaded city girl to the core, Gwen is determined not to conform. Then she meets Counselor Cornell, who begins to break through her carefully constructed defenses and force her to take a closer look at who she really is. Ultimately, through the companionship of her group as well as a devastating loss, Gwen gradually loses her cynicism and begins the long struggle to take back her life. Maybe, she discovers, your insides can match your outsides.
News & Interviews for 28 Days
Critic Reviews for 28 Days
Audience Reviews for 28 Days
½
Lifeless, soulless movie about a subject that isn't shown the respect and reverence it deserves. Bullock, who would go on to make more dramatic films with awful scripts, is the shining light in the midst of the darkness, as per usual. Though her performance varies between the girl next door personality she achieves so well in her romantic comedies and the dramatic, which she struggles with in some of her other films, here she grasps it easily enough. The beginning was well structured, had emotional depth, and resonated. The character was sloppy yet superficial, and very mean tempered. Her attitude was that of an addict, and Bullock really captured the persona of someone in rehab. Then she makes a U-turn, pretty much out of the blue, and all of sudden it's about stupid comedy, over the top drama, a love interest that feels out of place, and some really strange plot choices altogether. The minor character of Gearhardt, played by Alan Tudyk of all people, was possibly the worst character I have ever seen onscreen. He is duplicitous about his role as the comedic relief, and it was just painful all the way through. Bullock has to maneuver through so much inaccuracies, melodrama, and heartless froth in order to show any emotional response to Viggo Mortensen's character, the lives of her friends in rehab, and her own fate. Another great role came from Steve Buscemi who is the only realistic character in this entire thing. It's entirely made of fluff, but amusing, heartfelt fluff. More like insulation riddled with asbestos. The film does not show addicts to their true potential, and tries to make light of something that is actually a serious disease, and though it is addressed, it is also belittled by the plot and characters themselves, and nothing can make up for Gearhardt....nothing!
Spencer S.
Super Reviewer
The Life of the Party... before she got a life. Good film! Sandra Bullock did an amazing job at one of her earlier films as an actress. 28 Days" is one of the most accurate movies about alcoholism and drug addiction I can remember. The film does not glamorize or poke fun at its thematic content, but instead shimmers in truth depicting the problems in which a nowhere life can lead.This movie teaches us lessons through its characters. And the lessons are well taught. Recommended to all. After getting into a car accident while drunk on the day of her sister's wedding, Gwen Cummings is given a choice between prison or a rehab center. She chooses rehab, but is extremely resistant to taking part in any of the treatment programs they have to offer, refusing to admit that she has an alcohol addiction. After getting to know some of the other patients, Gwen gradually begins to re-examine her life and see that she does, in fact, have a serious problem. The path to recovery will not be easy, and success will not be guaranteed or even likely, but she is now willing to give it a try.
½
one whole star (and a half!) just cause i love ms. bullock. the rest of this trip to rehab is like a trip to rehab ... blech.
Kevin M. Williams
Super Reviewer
28 Days Quotes
There are no approved quotes yet for this movie.