28 Days Later
(2003)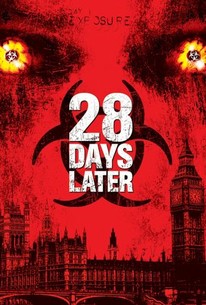 TOMATOMETER
AUDIENCE SCORE
Critic Consensus: Kinetically directed by Danny Boyle, 28 Days Later is both a terrifying zombie movie and a sharp political allegory.
Movie Info
After breaking into a primate research facility, a group of animal rights activists discover caged chimps chained up before banks of screens displaying horrifying, violent images. Ignoring the warnings of the terrified researcher who maintains that the chimps are infected, they begin to free the animals and are immediately subjected to a bloody attack from the enraged creatures. Twenty-eight days later, Cycle courier Jim awakes from a coma in the deserted intensive care unit of a London hospital. He wanders out into a church where he finds dead bodies piled in heaps on the chapel floor. A sudden explosion from a makeshift bomb heralds the arrival of fellow "survivors" Selina and Mark. They take Jim to safety and explain to him that this infection is transmitted by blood and overwhelms the infected victim with a murderous rage within seconds. Britain has been overrun, and they have no way of knowing if it has spread worldwide. Their only hope of survival may lie in the hands of a Manchester group of soldiers, as they claim to have the "answer" to infection and invite any survivors to join them at their blockade. Faced with no practical alternative, the group sets out northwards, unaware that the worst is yet to come.
News & Interviews for 28 Days Later
Critic Reviews for 28 Days Later
Audience Reviews for 28 Days Later
If you're gonna homage George Romero, do it with some respect, and this Brit import comes loaded. Danny Boyle directs, Alex Garland writes, Cillian Murphy and Brendan Gleason star, it's a power line-up primed to deliver all the tense, sweaty anxiety fear of being eaten alive should bring. Pretty damn cool stuff.
Kevin M. Williams
Super Reviewer
Menacing, grisly and bloody-brilliant to its core. 28 Days Later's combination of heart-pounding terror and gritty realism conjure up a fascinating take on a zombie/infection/plague tale and its real-world-situational trope. 4/5
Eugene Bernabe
Super Reviewer
Early neo-zombie flick is chilling in its unapologetic depiction of our fierce will to survive and the inhuman violence in humanity...and vice versa. Cillian Murphy is a bit bland at first, but then he gets balls-to-the-wall psycho. Naomie Harris (whom I erroneously thought was a recent ingenue) is bold and tough as the pitiless then maternal Selena, and the little bits of humor and camaraderie in this ragtag family are heartwarming. "The Walking Dead" seems to have taken its entire premise from this movie.
Alice Shen
Super Reviewer
28 Days Later Quotes
| | |
| --- | --- |
| Selena: | Do you think they saw us this time? |
| | |
| --- | --- |
| Jim: | And then I wake up today in hospital. I wake up and I'm... I'm hallucinating or I'm... |
| Mark: | What's your name? |
| Jim: | Jim. |
| Mark: | I'm Mark. This is Selena. Ok, Jim. I've got some bad news. |
| | |
| --- | --- |
| Jim: | Please.. |
| Corporal Mitchell: | Believe me, I'm not interested. |
| | |
| --- | --- |
| Mark: | A man walks into a bar with a giraffe. They both get pissed. The giraffe falls over. The man goes to leave and the bartender says, "Oi. You can't leave that lyin' there." And the man says, "No, it's not a lion. It's a giraffe." |
| Mark: | A man walks into a bar with a giraffe. They both get pissed. The giraffe falls over. The man goes to leave and the bartender says, 'Oi. You can't leave that lyin' there.' And the man says, 'No, it's not a lion. It's a giraffe.' |
| Jim: | [Doesn't respond] |