28 Weeks Later...
(2007)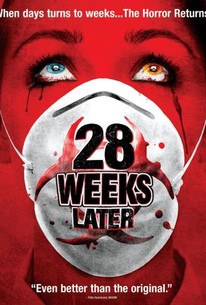 TOMATOMETER
AUDIENCE SCORE
Critic Consensus: While 28 Weeks Later lacks the humanism that made 28 Days Later a classic, it's made up with fantastic atmosphere and punchy direction.
Movie Info
The devastating rage virus that annihilated the British Isles mysteriously resurfaces in Goya Award-winning director Juan Carlos Fresnadillo's sequel to the Danny Boyle-directed horror hit that terrified audiences worldwide by offering a breathless new take on the familiar zombie mythos. Six months has passed since the rage virus caused British residents to indiscriminately murder and destroy everything in their paths, and now the U.S. military has declared victory in the war against the rapidly spreading infection. As the reconstruction process gets underway and the first wave of refugees return to British shores, a family separated by the devastation is happily reunited. During the initial outbreak, Don Harris (Robert Carlyle) and his wife Alice (Catherine McCormack) sat holed up with a small band of survivors in a remote farmhouse. Their kids well out of harm's way at a remote boarding school, Don and Alice's outlook for the future is decidedly bright until all hell breaks loose in the country and Don just barely manages to escape the clutches of the infected. The joy of later seeing his son Andy (Mackintosh Muggleton) and daughter Tammy (Imogen Poots) as repopulation efforts get underway in London is short-lived, however, when an innocent bid to reconnect with the past sets into motion a tragic series of events. Now, just as society struggles to sort through the rubble and rebuild London from the ground up, the virus that nearly destroyed a nation strikes back with a vengeance. Jeremy Renner, Rose Byrne, and Harold Perrineau, Jr. co-star in the frightful sequel, which highlights the dangers of declaring victory in the calm before the storm.
Critic Reviews for 28 Weeks Later...
Audience Reviews for 28 Weeks Later...
Despite some good clean zombie fun, Juan Carlos Fresnadillo gets a little preposterous with 28 Weeks Later. Overall, the 90 minutes of virus outbreak is acceptable; however, the likability of many a character is low. Aside from the introduction, there is a solid stretch of buildup before the storm, which is a tad tedious. The second half makes a push to redeem itself with some violence and action. The carnage is bloody violent, although the camerawork during a lot of these segments serves as a distraction. Notable faces fill out the cast. Robery Carlyle is a standout performer. Rose Byrne is a delight with her role. Jeremy Renner is a bit of a surprise cast for his character. 28 Weeks Later is a mixture of positives and negatives, but when all the running comes to an end, it is a watchable sequel.
½
[img]http://images.rottentomatoes.com/images/user/icons/icon14.gif[/img] There's an unofficial rule living in the horror genre which is that every zombie movie that takes money has to have a sequel. Not only is this a sequel to a zombie-esque movie (the monsters in the film are technically rage infected humans) but it's predecessor 28 Days Later was absolutely brilliant, this had to be satisfying otherwise it would have been hated among audiences, critics and fans of the original forever. For me, this lived up to the low expectations and exceeded them. Althought the plot follows the exact formula of the original it takes a different approach, a very risky move but i'm glad it did. It's much more adrenalin fuelled than 28 Days Later featuring both faster direction and a lot more screaming and camera splatter. In doing that director Juan Carlos Fresnadillo gives up the discomforting silence and eery build up's that made 28 Days Later an absolutely terrifying experience. The characters aren't as developed as they were in it's predecessor and as a consequence it lacks the finishing human touch. It's nowhere near as intelligent or thought provoking as Danny Boyle's hit but it has a good amount of grotesquely yucky gore and entertaining action sequences. Overall it's a solid action horror flick that's designed fantastically and lit with dazzling cinematography. It also boasts one of the scariest opening sequences i've seen in years. After it finished it didn't stay on my mind in the same way 28 Days Later managed but whilst I was watching it I was entertained. It ticks all the essential boxes that a horror fan could wish for and in my opinion that's all it needed in order to be a satisfying sequel to a film that really couldn't be beaten.
Directors Cat
Super Reviewer
½
I know a lot of people that think this is inferior to the first film based on the "atmosphere" of the first movie. But, I actually like this one more, because it doesn't have long drawn out scenes of nothing happening, but instead is a true full throttle horror movie. This has probably the scariest opening scene I've ever seen in the theater. Not sure why, but the way the house is attacked, and the guy leaving his wife to die just really got me. I saw this in the theater and after the first five minutes I was like "holy crap this is a lot more intense than the first movie". Re-watching it now, five years later, this remains a very intense and brutal horror movie that exceeds the first movie by a lot. This picks up 28 weeks after the virus breakout and London is basically a ghost town. The U.S. army has helped get it ready for people to movie back in and start to rebuild the city, when an outbreak occurs. There's more to it, but that is the jest of it. Good performances by all the actors(keep an eye out for Jeremy Renner, aka Hawkeye), and the violence is just insane. This movie holds little back in terms of gore and going the extra step most horror movies(at least nowadays) won't go. I really like this film and I wish they would have made a third movie along to compliment this movie. Horror fans have to watch this, if you have a squeamish stomach then steer clear!
Everett Johnson
Super Reviewer
28 Weeks Later... Quotes
| | |
| --- | --- |
| Gen. Stone: | Abandon selective targeting. Shoot everything. Targets are now free. We've lost control. |
| | |
| --- | --- |
| Scarlet: | You look a little pale. |
| Sgt. Doyle: | Blood makes me nauseous. |