2 Guns
(2013)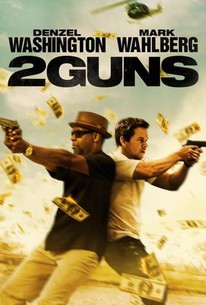 TOMATOMETER
AUDIENCE SCORE
Critic Consensus: Formulaic and often jarringly violent, 2 Guns rests its old-school appeal on the interplay between its charismatic, well-matched stars.
Movie Info
Two crooked undercover officers - one from the DEA and the other from the Navy - unknowingly lead investigations on the other in this crime thriller from director Baltasar Kormakur. Mark Wahlberg, Denzel Washington, and Bill Paxton head up the starring cast. ~ Jeremy Wheeler, Rovi
News & Interviews for 2 Guns
Critic Reviews for 2 Guns
Audience Reviews for 2 Guns
½
Buddy comedy by the numbers, entertaining but forgettable, especially when you care little about what's going on on the screen and you're ultimately wondering what all the fuzz was all about. Only the protagonists' chemistry makes this somewhat watchable.
My first Movie for 2014, I really thought that there was every chance I'd not like this movie, and was pleasantly surprised to find it exciting, action-packed, humorous and more than a bit convoluted. The acting was, as one would expect, brilliant with Mark Wahlberg and Denzel Washington having the time of their lives. The story took some following trying to figure out all the convolutions taking place with CIA and the Navy figuring prominently, but it was great fun, and the violence while never-ending was not over the top like some others today. I have to say that I felt Wahlberg stole the show with his comedic side strongly brought out. Go and see it, but do not try to figure out all the ins and outs too seriously. Great entertainment. 4 Stars 1-1-14
Bruce Bruce
Super Reviewer
½
Denzel Washington and Mark Wahlberg aren't strangers to fronting acclaimed films in equally acclaimed performances; but they have something else in common. Neither actor has shied away from making a plethora of less critically prestigious, Hollywood action pictures; often heightening the proceedings with charisma alone. "2 Guns" is such a movie, and because of it's stars is also a good one. Directed by Baltasar Kormákur, who previously worked with Wahlberg on the solid "Contraband," "2 Guns" establishes itself as an equally energetic take on familiar material from the very first scene. The snappy dialogue, humor, and great chemistry between leads last throughout and isn't tired after this initial sequence. Along the way we get the likes Bill Paxton, James Marsden, and Edward James Olmos who indulge in a little screen chewing of their own. For an action movie with ambitions planted firmly in the visceral, "2 Guns" is surprisingly teeming with plot. There's the obligatory cross, double cross, hell even a quadruple cross, in a deceptive web that involves two undercover agents, the CIA, Naval intelligence, and even a drug cartel... oh my! Halfway through I didn't know who was playing who yet, or how everything fit together, but too the writer's credit, we never feel overwhelmed, duped, and everything ties together in an entertaining whole. The film does end abruptly after a fun build up, which is one of my only knocks plot wise. Even with everything I've just said, "2 Guns" comes down to Washington and Wahlberg. They are exciting to watch and have a great, more importantly believable chemistry. The stakes get high, but we never believe they are in anything but complete control. They command their standalone actioners, but for obvious reasons the results are even more successful here. "2 Guns" is great fun, with a complex plot that is a tribute to it's comic roots. We get a lot of films like this each year, but director Kormákur's stylish effort is one to see regardless. It is derivative. But it's rock solid and elevated by it's two leads.
2 Guns Quotes
| | |
| --- | --- |
| Marcus "Stig" Stigman: | I got a plan. I mean, I'm capable of coming up with a plan. |
| | |
| --- | --- |
| Marcus "Stig" Stigman: | You ever heard the saying "You gotta face only a mother could love?" Well that don't apply to you, you are uglier than the devil's asshole itself. |
| | |
| --- | --- |
| Robert "Bobby" Trench: | Make it rain (detonates car explosive) |
| Robert "Bobby" Trench: | Make it rain. |
| | |
| --- | --- |
| Marcus "Stig" Stigman: | [To Papi Greco:] You know I've been rackin my brain, trying to figure out who you look like and it finally donned on me.. You look like a Mexican Albert Einstein. Minus the genius factor, obviously. Want some yogurt? |
| Marcus "Stig" Stigman: | You know I've been rackin my brain, trying to figure out who you look like and it finally donned on me.. You look like a Mexican Albert Einstein. Minus the genius factor, obviously. Want some yogurt? |