3000 Miles to Graceland
(2001)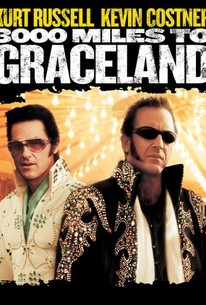 TOMATOMETER
AUDIENCE SCORE
Critic Consensus: While the premise sounds promising, the movie turns out to be a tedious and unnecessarily violent heist movie that's low on laughs and leaves no cliche unturned.
3000 Miles to Graceland Photos
Movie Info
After squaring off in 1995 with competing movie biographies of frontier lawman Wyatt Earp, actors Kurt Russell and Kevin Costner co-star in this action crime caper as former cronies engaged in a series of double-crosses over some stolen loot. Michael Zane (Russell) and Thomas Murphy (Costner) are the leaders of a gang of ex-convict thieves using an Elvis Presley impersonator convention to pull off a daring heist in a Las Vegas casino. The gang also includes Gus (David Arquette), Hanson (Bokeem Woodbine), and Franklin (Christian Slater). Although they manage to retrieve the money, the crooks turn on each other in bloody fashion and Murphy (who believes he's actually the illegitimate son of Elvis) makes off with the illegal funds. In hot pursuit are the police and Michael, who's encumbered by his girlfriend Cybil (Courtney Cox-Arquette) and her young son Jesse James. Written and directed by music video creator Demian Lichtenstein, 3000 Miles to Graceland also stars Kevin Pollak, Ice-T, and Howie Long.
News & Interviews for 3000 Miles to Graceland
Critic Reviews for 3000 Miles to Graceland
Audience Reviews for 3000 Miles to Graceland
½
A big fun heist piece fed on nada but actors' charisma and man, there's plenty here to go around. The writing's a little "ehh" and maybe (just maybe!) there's a little too much of a copycat Tarantino vibe, but past that there's some nice time at the movies action here. Courtney Cox. You know how you hear somebody's famous but can't figure out why? That's how me and Courtney go, until this. She didn't annoy the crap outta me for once, and was even sexy in parts. Wow. But its Costner's film, hands down, no contest.
Kevin M. Williams
Super Reviewer
Kinetic, energized action / heist film, 3000 Miles to Graceland is a far better film that what has been initially said about it. With a great cast of actors, an effective script, this is a film that delivers an entertaining two hours for viewers that want a mindless action picture to watch. The film is not great, but it's much better than what most reviews have said about it, and there is enough going on-screen to make this a worthy film to watch. I quite enjoyed Kurt Russell's performance as well as that OF Kevin Costner's. The way the film goes into the heist elements is very well done, and in turn the thrills mount up afterwards, and it's a satisfying affair for those that enjoy films like these. I found this one to be underrated, and it's a fun film to watch if you're in the right state of mind. However, the film does have a few shortcomings, and it does leave room for improvement, but it's not a bad film by any means. At times the film is darkly humorous, and those elements, don't really work in the story, and it's what brings down the film slightly, but the idea is very good and it's an entertaining heist picture that deserves another chance. The cast do fine work here, and the story is entertaining enough, even if it's not perfect, it's a worthwhile picture to watch if you have nothing else better to watch. 3000 Miles to Graceland is an average film of course could have been better, and you are left wanting more, but overall, it's a pleasant film to watch for genre fans looking for an entertaining genre film to view.
Probably one of the most interesting and quite cool team ups I've seen in a film for some time, Costner, Russell and Slater although we lose Slater early on. Unfortunately the casting also included Arquette and Cox who both seem to star in the same films as if its a contract requirement, thing is both of them are useless, and Ice-T pops up at the end with a really dumb character but luckily he kicks the bucket quickly. So basically this is Costner being a muttonchopped badass and killing virtually anyone who stands in his way! Reviews and box office performance were poor but personally I don't get why as I believe this is a rip roaring king of action that is miles better than most gun totting action flicks. Sure its pretty silly but the Elvis impersonators convention robbery set piece at the start is worth the ticket admission alone, bullets fly and police officers get blasted from here to next Sunday whilst Costner struts around in leather pants and Russell's hairs would make Elvis himself proud. Add to this a rocking soundtrack, some decent car chases and some nice camera work and you have a pretty smart film. Plus side, Arquette dies early, we do see Cox in a thong (sneak peek shot) and Costner makes a better bad guy than good, its just a shame Slater wasn't in longer.
Phil Hubbs
Super Reviewer
3000 Miles to Graceland Quotes
| | |
| --- | --- |
| Joseph Hanson: | I have good news and bad news, good news, your mom is in the trunk, bad news, she is alive |
| Joseph Hanson: | I have good news and bad news, good news, your mom is in the trunk, bad news, she is alive. |
| | |
| --- | --- |
| Michael Zane: | I'll splatter cherry pie all over the wall behide you. |