30 Days of Night
(2007)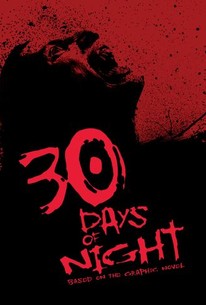 Movie Info
In Barrow, Alaska, the northernmost town in the United States, the winter sun sets and does not rise for 30 days and nights. From the darkness comes an evil force that strikes terror on the town, and all hope is pinned on a husband-and-wife cop team.
News & Interviews for 30 Days of Night
Critic Reviews for 30 Days of Night
Audience Reviews for 30 Days of Night
½
[img]http://images.rottentomatoes.com/images/user/icons/icon14.gif[/img] My expectations for this graphic novel adaptation were considerably high for a couple reasons. Firstly the director of 30 Days of Night is the very talented David Slade. He gained recognition for directing the deeply intelligent, extremely tense, incredibly edgy and profoundly atmospheric "Hard Candy" which boasted both suspense and character development. It was one of the most terrifying films I had ever seen. When you put him and vampires together, it's a formula for success. This film has a number of thrills, a beautiful visual style and decent acting. Especially Danny Huston who is fantastic as the head vampire. But in small chunks between the thrills it felt to me a little bit dull, and in it's entirety despite a few jumps I was never actually scared watching it at all. Mellisa George in her supporting role is rubbish, I expected more from her, but it's the weak script that doesn't give her much to do at all, she does what she can with the material she's given, but it never feels like she's really there. But positively on the other hand, I am a gorehound, and if you love watching Josh Hartnett chop vampire's heads of with axes and slasher horror with an artistic quality to it, you'll enjoy it probably as much as I did. Because there's a lot of brilliant, unrestrained, nasty kills that you don't see often in mainstream horror movies anymore. Slade delivers on that level. He also gives us a true conclusion to the story, and not one last infantile shock that most modern horror movies always succumb to. It's definitely not the masterpiece some positive reviews have exaggerated, but I found it very entertaining nonetheless.
Directors Cat
Super Reviewer
There are not many decent vampire films to date. Unfortunately, 30 Days of Night doesn't satisfy all those looking for a saviour. However, it does deliver some decent scares.
Samuel Riley
Super Reviewer
"Magnificently scary...The vampire film finally draws blood again" - Not my words this appears on the back cover of the dvd, which I feel is the quite contrary to my own thoughts on this film. I'm no expert on this genre, in fact I've only just strarted watching Vampire films in the last couple of months, however I feel this is one of the dullest I've seen so far. There's nothing scary (a couple of slightly gory parts) nothing tense, just a little too boring. The best thing about this film is the box it came in - it was impressive and has a little comic booklet. I think you've guessed it, it's not a recommendation.
Lady D'arbanville
Super Reviewer