30 Days Of Night: Dark Days
(2010)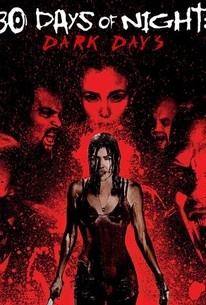 30 Days Of Night: Dark Days Photos
Movie Info
Nearly a year after the vampire siege of Barstow, Alaska, lone survivor Stella (Kiele Sanchez) discovers that she isn't alone when she's recruited to eradicate the vampire menace once and for all. Her waking hours filled mourning the death of her late husband and her dreams haunted by visions of the creatures that turned him into a monster, Stella becomes the subject of much ridicule when she makes it her mission to convince the public that vampires truly exist. But just as the embarrassment is becoming too much to handle, three strangers (Harold Perrineau, Diora Baird and Rhys Coiro) present Stella with an opportunity to seek revenge by killing Lilith (Mia Kirshner), the vampire queen behind the Barstow massacre. Armed to the teeth and ready to die fighting, the brave quartet descends into the sewers beneath Los Angeles and begins their search for the elusive Lilith. But should she manage to find them first, the vampires will once again gain the upper hand.
Critic Reviews for 30 Days Of Night: Dark Days
Audience Reviews for 30 Days Of Night: Dark Days
½
30 Days of Night: Dark Days, from Ben Ketai, should remain in the dark because there isn't much going on here.
Although a direct sequel of its predecessor, 30 Days of Night, the story behind this picture is enough to stand on its own. With that said, even though it can be called brief with a runtime under 90 minutes, there isn't much in the way of intrigue in the story.
The violence is bloody as expected, but everything else from the action to the CG is mediocre, which all adds up to a disappointing conclusion to the film.
All around, the characters and the acting are sandpaper dry. It's not a problem staring at Kiele Sanchez, but her performance had no life to back up the looks.
30 Days of Night: Dark Days doesn't offer anything to recommend. Look at the cover and move on.
MisterYoda ?
Super Reviewer
Maan, this movie did not need to be as bad as it ended up being. It seemed to remove all the narrative strengths of the first movie, and focussed instead on the villains. Sure they're scary, but they're not terribly interesting. And they didn't flesh Lilith out enough to make her a believable foe, let alone an engaging one. Why, exactly is she the head vampire? Where did her power come from? Why did she order the siege of Barrrow? Why would anyone willingly work for these vampires? I don't remember the comics being this derivative. The characters here seem flatter, the story logic seems a little more slippery and the scares a little more foundless. Stella wasn't a particularly likeable character, and she doesn't really make any friends worth watching, either. I didn't care what happened to thier ragtag team of vampire slayers. Also, the element of "we're trapped here in Vampireland" that was so vital to the original is cut back significantly in this movie. I think this movie should have spent more time underground in the vampires' sunless base, or on the ship, to best recreate the atmosphere that really defined the first. I think, anyway.
Emily Armstrong
Super Reviewer
30 Days Of Night: Dark Days Quotes
There are no approved quotes yet for this movie.