31 North 62 East (Too Close to the Truth)
(2009)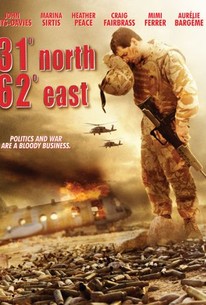 Movie Info
A corrupt British Prime Minister becomes the subject of an intense investigation after giving up the location of an SAS unit in Afghanistan in order to secure a highly-lucrative arms deal. In the wake of finalizing an $80 million weapons accord with a prominent Afghan Sheik, British Prime Minister John Hammond grows confident that his chances of being reelected are high. But when a group of British soldiers are implicated in the murder of the Sheik's nephew, the prime minister begins to fear that his political career could quickly unravel. Desperate, Prime Minister Hammond attempts to remain in the Sheik's good graces by revealing the location of a clandestine SAS unit in Afghanistan despite the fact that regiment had no involvement in the murder whatsoever. Two months after the attack all of the SAS soldiers are presumed dead, but Italian Special Forces reveal that the sole survivor, Captain Jill Mandelson, incredibly managed to elude capture. Now Captain Mandelson wants answers. With the help of her twin sister Kimberly and some powerful contacts in the French Secret Service, Captain Mandelson prepares to confront the most powerful people in Britain to uncover the truth and hold Prime Minister Hammond accountable for his crimes.
Critic Reviews for 31 North 62 East (Too Close to the Truth)
Audience Reviews
There are no featured reviews for 31 North 62 East (Too Close to the Truth) at this time.
31 North 62 East (Too Close to the Truth) Quotes
There are no approved quotes yet for this movie.