35 Rhums (35 Shots of Rum)
(2008)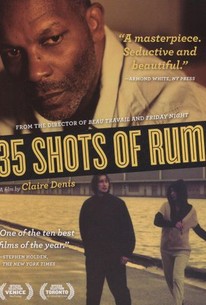 35 Rhums (35 Shots of Rum) Photos
Movie Info
Time and romantic attraction threaten to sour a family relationship in this drama from writer and director Claire Denis. Lionel (Alex Descas) is a middle-aged widower who makes his living driving a train and shares an apartment with his twentysomething daughter, Joséphine (Mati Diop). Lionel and Joséphine have a warm and caring relationship, and while it's not Lionel's nature to say very much, his affection for his daughter is clear. Lionel's on-and-off girlfriend Gabrielle (Nicole Dogue) and their footloose friend Noé (Grégoire Colin) live in the same building, and together the four have fallen into a casual family relationship. However, when Lionel's close friend and fellow driver René (Julieth Mars Toussaint) announces he's retiring, Lionel becomes painfully aware that he's not as young as he once was, and realizes how much he depends on his daughter. This knowledge sets Lionel on edge when Joséphine's friendship with Noé begins to evolve into a romantic relationship. 35 Rhums (aka 35 Shot of Rum) received its North American premiere at the 2008 Toronto Film Festival.
News & Interviews for 35 Rhums (35 Shots of Rum)
Critic Reviews for 35 Rhums (35 Shots of Rum)
Audience Reviews for 35 Rhums (35 Shots of Rum)
½
while it's lovely, it's the least impressive denis film i've seen yet
Stella Dallas
Super Reviewer
It's quite pleasant once in a while to see a French modern day drama where the main characters don't jabber on endlessly about their thoughts and feelings. It's also quite refreshing to see a nearly all-black cast without making a big deal of it one way or another. Here the dynamics of a super-close father and daughter plus their would-be partners is all shown thrown through the mundane habils of everyday life, and intimacies and glances rather than histrionics. Not a whole heap happens, which might be disappointing to some, but if you're more interested in character than action, then there's much to enjoy in this story of an extended family's unwanted but inevitable change.
½
Daughter loves father dearly , repeat to close. Now I'm no slouch with plots but I struggled to work out who was who in the supporting cast and how they were interrelated. Such willful obfuscation may be intended but it ruined things for me.
Gordon Anderson
Super Reviewer
35 Rhums (35 Shots of Rum) Quotes
There are no approved quotes yet for this movie.