360
(2012)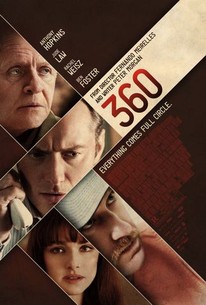 Movie Info
From two acclaimed artists: director Fernando Meirelles (City of God, The Constant Gardener) and writer Peter Morgan (The Queen, Frost/Nixon). With a stellar international cast that includes Rachel Weisz, Anthony Hopkins, Jude Law, Ben Foster, Jamel Debbouze and Moritz Bleibtreu, 360 is a moving and exciting dramatic thriller that dazzlingly weaves together the stories of an array of people from disparate social backgrounds through their intersecting relationships. -- (C) Magnolia
News & Interviews for 360
Audience Reviews for 360
½
An unimpressive drama about people, decisions, situations - vague as it sounds and using a high-class cast to state the obvious. The stories are never resonant, while the characters are never given enough time to develop into flesh-and-blood figures.
Carlos Magalhães
Super Reviewer
Everything comes full circle. Good movie!!! 360 is a beautifully made film that oozes class and tells us something about where we are at as human beings in the 21st century. The film makers and actors should be applauded for this huge achievement. The Cast are made up of fine actors from around the world and headed by sympathetic and unshowy performances from Anthony Hopkins, Rachel Weisz and Jude Law. Ensemble films like this don't always work, but in the hands of a master director such as Meirelles, Peter Morgan's script comes to life in a vivid and evocative way. I love the way the story progresses from one pair of characters to the next and the cinematography is superb. Verticals and horizontals are crisply defined and move into split-screen that unites the stories. 360 is a film with real heart and real purpose made by real talent. Screenwriter Peter Morgan and director Fernando Meirelles' 360 combines a modern and dynamic roundelay of stories into one, linking characters from different cities and countries in a vivid, suspenseful and deeply moving tale of love in the 21st century. Starting in Vienna, the film beautifully weaves through Paris, London, Bratislava, Rio, Denver and Phoenix into a single, mesmerizing narrative.
To review this movie all I really need to do is quote my beautiful wife. This is word for word exactly what she said when the movie finished "That was stupid! A waste of my time". We usually disagree on movies, as she thinks everything I was is weird and dumb. But here, we agree completely. The concept of this movie has been done many times before, and so much better. Which makes it so disappointing that this just fails to be the good movie it could have been. It's a series of different stories spanning the globe and how they weave together and come to a full 360. Stars Anthony Hopkins, Ben Foster, Rachel Weisz, and Jude Law. Foster is the best and most interesting character in the movie, but he is only on screen for like 10 minutes, which is a shame. The biggest problem for me with the movie is a lack of conclusion. None of the stories have a real finish to them. Open endings are usually fine with me, but wrap something up, don't just cut everything off and give no answers to anything. It really is a waste of time, and a movie that you would better be served to just skip over all together.
Everett Johnson
Super Reviewer
360 Quotes
| | |
| --- | --- |
| Sergei: | When two vowels go walking only one does the talking. |
| | |
| --- | --- |
| Older man: | If we only live once... how many chances do we get? |
| | |
| --- | --- |
| Michael Daly: | I make you happy right? I make you feel good. |