36 Saints
(2013)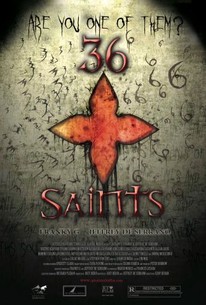 AUDIENCE SCORE
Critic Consensus: No consensus yet.
Movie Info
When New York Police Headquarters is confronted with the horror of a serial murderer loose on the streets of Manhattan, two detectives (Franky G and Jeffrey De Serrano) are tasked with bringing order to the chaos. Oblivious to the danger, six students from all over the world, who now attend school together in New York, are planning a memorial to celebrate the lives of their 30 lost "brothers and sisters" who died suddenly in a tragic plane crash a year prior. As evidence continues to mount and more body bags are gathered, the detectives are convinced that the killer is basing his crimes on the belief that every generation has 36 righteous individuals who live among us, where, with all of them gone, the world would fall into darkness. It is a race against time for the detectives to stop the murders and find the last of the 36 Saints before the killer does. (c) Active Fox
Critic Reviews for 36 Saints
All Critics (3) | Top Critics (3) | Fresh (0) | Rotten (3)
An especially hollow Armageddon, in which the final battle between good and evil is as flavorless and thinly structured as a Communion wafer.

The real problem with this film is that its voiceover at the beginning is its only real attempt at storytelling; there is no central character or quest to latch onto.
Audience Reviews for 36 Saints
Every now and again comes a film that begins so badly (and bad all over the place: bad writing, bad acting, bad directing, etc., etc., etc.) that you are given to wonder: "didn't anyone making this see how bad this is while they were doing it? Why didn't they stop it? Well, maybe they'll pull the thing out of the fire ... ?" This is that film for this season, and no, they don't pull it out the fire, but rather it continues to burn, burn, burn. Stink, stink, stink. Feeling sorry for yourself? Contemplating suicide perhaps? Here is your life preserver, bunkie, cause whatever it is it can't be as bad as this vomit in a grocery store aisle.
Kevin M. Williams
Super Reviewer
36 Saints Quotes
There are no approved quotes yet for this movie.