Three Idiots
(2009)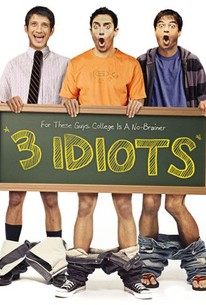 Movie Info
Two friends embark on a quest for a lost buddy. On this journey, they encounter a long forgotten bet, a wedding they must crash, and a funeral that goes, ridiculously out of control. As they make their way through the perilous landscape, another journey begins: their inner journey through memory lane and the story of their friend -- the impressible free-thinker Rancho, who is in unique way, touched and changed their lives. It's a story of their hostel days that swings between Rancho's romance with the spirited Pia, and his clash with an oppressive mentor, Viru Sahastrabudhhe. And then one day, suddenly, Rancho vanished. Who was he? Where did he come from? Why did he leave? The friend who influenced and inspired them to think creatively and independently, even as the conformist world called them "three idiots." Where is the original idiot now? Finally, in misty mountains of unparalleled beauty, the friends find the key to the secret.
Critic Reviews for Three Idiots
Audience Reviews for Three Idiots
½
Despite Aamir Khan's charismatic performance, this initially amusing comedy gets sadly lost in a melodramatic second half full of ludicrous situations and unnecessary revelations, with a pathetic conclusion that believes that hugs and laughs are enough to solve everything.
Carlos Magalhães
Super Reviewer
½
Rajkumar Hirani's magical spell again worked wonders. I wasn't expecting that it would work for me either. While it was still under production, I can remember having read in one of the newspapers as to how this movie could succeed given that it is based on a bestseller (5 Point Someone). And I reckoned then (not that I've read the book till date; probably I'm just one of those hyppos). But the movie turned out to be a bestseller in itself. I know not how far did those who have read the book enjoyed the movie, if at all, but I was in for a ride. It's an incredible piece of entertainment with an underlying message, but doesn't get too preachy at any point. I'd have found the screenplay flawless had the birth sequence towards the end wasn't so stretched. Putting that aside, it's miraculously excellent. Needless to say, besides Rajkumar's brilliant execution, Aamir, Madhavan and Sharman's excellent performance also help making predictability an ignorable factor in this masterpiece.
familiar stranger
Super Reviewer
½
None quite like it. It is captivating as well as being funny and a lot of lessons there to be found. Though definitely good, the ending is simply too good to be true. Nevertheless, it is a fine film with a lot of heart, a lot of soul and everything else.
Adriel Lim
Super Reviewer
Three Idiots Quotes
| | |
| --- | --- |
| Rancho: | in the future when you think of just giving up on life, remember that the letter was in your hands, the cab was at the gate, only if you had thought about it once more, your entire life would have been better. |
| Rancho: | In the future when you think of just giving up on life, remember that the letter was in your hands, the cab was at the gate, only if you had thought about it once more, your entire life would have been better. |
| | |
| --- | --- |
| Farhan: | I am scared that my father won't allow me to be a photographer. |
| Rancho: | Follow your dream. Don't study something that you know you're bad at and follow your passion. |
| | |
| --- | --- |
| Raju: | I have learnt to stand up on my feet after having broken both my legs |
| Raju: | I have learnt to stand up on my feet after having broken both my legs. |
| | |
| --- | --- |
| Rancho: | Learning is not memorizing the exact words from the book. Learning is understanding it and being able to explain it in your own words |
| Rancho: | Learning is not memorizing the exact words from the book. Learning is understanding it and being able to explain it in your own words. |