3 Ninjas Kick Back
(1994)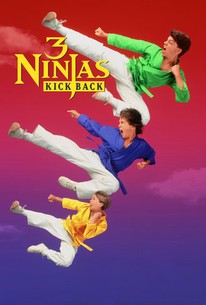 3 Ninjas Kick Back Photos
Movie Info
The sequel to the 1992 Disney film "3 Ninjas," this action-comedy follows the adventures of three young Japanese-American boys as they attempt to help their ninja master grandfather return a sacred dagger to a karate tourney in Japan before they have to return to L.A. for their baseball play-off game.
Critic Reviews for 3 Ninjas Kick Back
Audience Reviews for 3 Ninjas Kick Back
First sequel to 3 Ninjas offers nothing new to the series except a lot more pointless and awful entertainment. This film does nothing to be effective entertainment and is a very forgettable film. The performances are wooden, and uninteresting, and overall it fails to really entertain, and offer the viewer something thrilling to watch. As a family film, this sequel like the first film offers nothing good. The script is horrible; the cast is bad and the directing awful. 3 Ninjas Kick Back is one of the worst family films that you can watch, and it makes you wonder why they even made this trash in the first place if the first film was just as bad. This sequel is nothing new, it possesses a clichéd formula that we've seen in the firs at film, and it's clear that it doesn't work. Maybe kids will enjoy this, but as someone who grew up when these films were made, I look back at these films as trash, uninspired filmmaking that doesn't work, and it simply fails to be effective, memorable entertainment. This film is pointless, the story is just not interesting and ultimately it fails to be fun. The film is far too silly to be fun, and entertaining. The only thing that you can do with this film is forget about it. This is poorly constructed entertainment and it doesn't work. Don't expect a good family film with this one, as you'll be disappointed.
Oh, goodness not another 3 ninjas movie. This series was just trying to make a Karate Kid copy cat, but with cuter kids. My little brother made me watch them all with him!
More kid-pleasing entertainment has our three youthful heroes forced to choose between playing in a championship baseball game and accompanying their all-wise grandfather to Japan for a martial arts tournament. It's The Karate Kid, The Three Stooges, The Bad News Bears, and Indiana Jones all crammed into one fast-paced movie that works surprisingly well.
Dean McKenna
Super Reviewer
3 Ninjas Kick Back Quotes
There are no approved quotes yet for this movie.