3 Women
(1977)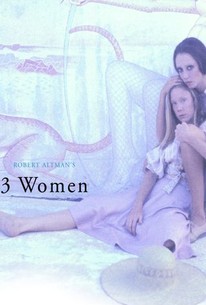 Movie Info
Robert Altman's Three Women takes a surreal, improvisational and rather eerie look at the lives of three women in a western desert town. The plot centers around the youngest of the women, Pinky (Sissy Spacek), an eccentric, withdrawn woman trying to begin a new life. She finds work as an attendant at a hot springs spa catering to the elderly and infirm. There she befriends her co-worker Millie (Shelley Duvall), an equally strange but more outgoing woman; the two bond, and are soon sharing an apartment. Pinky becomes increasingly dependent on Millie, eventually adopting aspects of her personality and appearance. This obsessive attachment is threatened when Pinky discovers Millie with a man -- Edgar (Robert Fortier), the macho, faux-cowboy husband of local artist Willie (Janice Rule), the last of the title's three women. Pinky's subsequent, desperate actions precipitate the film's enigmatic conclusion, involving an unexpected series of confrontations and role reversals amongst the three women. This story tends to take a backseat to the elliptical, spooky imagery, particularly the desert landscapes, and the quirky performances -- not surprising, given that the film was reportedly shot without a full screenplay and inspired by Altman's own dreams. ~ Judd Blaise, Rovi
Critic Reviews for 3 Women
Audience Reviews for 3 Women
½
2nd time watching this, still can't claim to understand the ending, but wow, such a good movie. Really enjoyed the relationship between these two women. The third in the end is too seldom in the movie to have any real impact. I also lean towards the theory that Millie and Pinkie are the same person, but hard to say.
Nicki Marie
Super Reviewer
½
Wide-eyed Pinky (Sissy Spacek) latches onto delusional Millie (Shelly Duval) until an accident causes a radical personality shift. Fascinating, subtly unnerving psychological mystery that provides a bridge between PERSONA (1966) and LOST HIGHWAY (1997).
½
'She tries not to shatter, kaleidoscope style Personality changes behind her red smile Every new problem brings a stranger inside Heplessly forcing one more new disguise.'
Stefanie C
Super Reviewer
3 Women Quotes
There are no approved quotes yet for this movie.