The 400 Blows (Les Quatre cents coups)
(1959)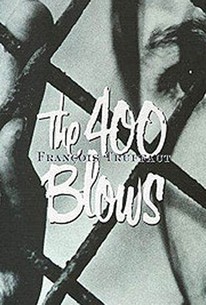 TOMATOMETER
AUDIENCE SCORE
Critic Consensus: A seminal French New Wave film that offers an honest, sympathetic, and wholly heartbreaking observation of adolescence without trite nostalgia.
The 400 Blows (Les Quatre cents coups) Videos
The 400 Blows (Les Quatre cents coups) Photos
Movie Info
"The 400 Blows" marks the birth of legendary nouvelle vague character Antoine Doinel; his is the story of a 13-year-old wild child whose adventures were based on director Francois Truffaut's own adolescence.
News & Interviews for The 400 Blows (Les Quatre cents coups)
Critic Reviews for The 400 Blows (Les Quatre cents coups)
Audience Reviews for The 400 Blows (Les Quatre cents coups)
In the decade or so since I first saw "Les Quatre cents coups" on that fateful day in film class, it has become one of those litmus test films, during which, I stress myself out anticipating my friends' reactions to the movie almost as much as watching the movie itself. Sad to say, perceptions change when watching films with different people and at different times of life and sometimes, when the denouement is known. As pure and as unadulterately awesome as that denouement is, with young Jean-Pierre Léaud's impressively improvised tales of Antoine's teenage woes and the endless run to the beach, the adagio and sometimes broken pacing of the rest of film seems to redeem itself only because of that ending. And perhaps also Jean Constantin's mesmerizing zither score.
Alice Shen
Super Reviewer
½
Francois Truffaut's directorial debut and great coming-of-age story 'The 400 Blows' stands as one of the best of its sub genre. With a great lead performance and assured direction, Truffaut handles this autobiographical film with remarkable ease and aesthetics. This film about a troubled youth growing up in Paris still stands as one that helped define the New Wave era in France.
Kase Vollebregt
Super Reviewer
Without a doubt, one of the best films ever made. This is Paris in 1968 before Paris in 1968. This is punk rock before punk rock, and what The Clash meant by "I wasn't born, so much as I fell out." This is New Wave before New Wave. This is existentialism, Camus from the mouth of babes. This is what Foucault was going on about in Discipline and Punish. This is the non-conformist spirit, at once made concrete and abstract. This is how it feels to be dispossessed, displaced, and dispirited. This is the un-coming-of-age story, the moment of the invention of the precise opposite of the cliche. This is On The Waterfront for the French, but better. This is the loneliness at the core of human existence, communicated better than in most art made before or since. This is one of the few films I will gush about rather than "objectively" pick apart. This is brilliant, visionary film-making, and a movie you absolutely must not die without having seen.
Daniel Perry
Super Reviewer
The 400 Blows (Les Quatre cents coups) Quotes
There are no approved quotes yet for this movie.