400 Days
(2016)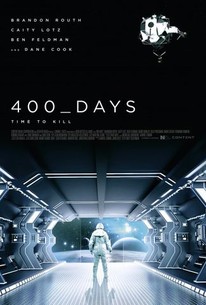 Movie Info
This psychological sci-fi film centers on four astronauts who are sent on a simulated mission to a distant planet to test the psychological effects of deep space travel. Locked away for 400 days, the crew's mental state begins to deteriorate when they lose all communication with the outside world. Forced to exit the ship, they discover that this mission may not have been a simulation after all.
Critic Reviews for 400 Days
Audience Reviews for 400 Days
½
It's hard to create a sci-fi movie that can be liked by every viewer. The little logical things that must be connected sometimes are not easy to the watchers to understand. But every single film from that genre has his own point of reaching the event's point in the film. That movie shows little more hard for making sence till the end or not even till the thinking about the movie. But the movie makes other expecting for next step of the story. Maybe I didn't explain in a simple way but that way showes that the film is more complicated.
Valeri Ivanov
Super Reviewer