40 Days and 40 Nights
(2002)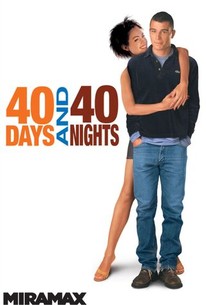 40 Days and 40 Nights Photos
Movie Info
Following memorable roles in the military action-adventures Pearl Harbor (2001) and Black Hawk Down (2001), young actor Josh Hartnett is propelled to romantic leading man status with this semi-autobiographical comedy from screenwriter Rob Perez. Hartnett stars as Matt Sullivan, a young man smarting over the bitter breakup of his most recent relationship. With Lent approaching, Matt decides to observe the 40-day tradition by abstaining from all sexual contact, including self-gratification. Once his odyssey of discipline has begun, he meets the girl of his dreams, while his ex begins campaigning to get him back. Co-starring Shannyn Sossamon, Maggie Gyllenhaal, and Vinessa Shaw, 40 Days and 40 Nights inspired another round of controversy between distributor Miramax and the Catholic League, which accused the film of being a "vulgar parody" of Lent. The League previously protested the company's releases of Priest (1994) and Dogma (1999). ~ Karl Williams, Rovi
Critic Reviews for 40 Days and 40 Nights
Audience Reviews for 40 Days and 40 Nights
½
Romantic comedy with really dry humor.
Eric Alvarez
Super Reviewer
½
Michael Lehman's "40 Days and 40 Nights" is a surprisingly funny, smart, edgy romantic comedy with an amazing sweetness to it. This is a feat given some of the graphic dialog, and outrageous sight gags. Credit the star power of Josh Hartnett, the skillful direction of Michael Lehman, and a brisk and "in your face" screenplay by Rob Perez. The movie intends to offend, and we give it permission to do so-- the effect is a fun time at the movies. Josh Hartnett plays young Dot Commer, Matt, who is suffering since his break up 6 months ago from Nicole (a viciously good Vinessa Shaw). Matt has visions of a Black Hole fissuring from the ceiling whenever he is having sex with women which is very often-- poor guy. Matt confides in his brother, John (Adam Trese), a priest completing his probationary period. John is not the tower of strength and inspiration that Matt is looking for. Then by design, divine intervention, or sheer insanity, Matt chooses abstinence for 40 days and nights until Lent. And this is extreme-- no fondling and... no masturbation. No one believes Matt will last 40 days, much less a week. Among the faithless is Matt's roommate, Ryan (Paulo Costanzo), who betrays Matt confidence and tells his co-workers at Matt's Internet company. They start a pool on a website predicting Matt's demise. In the meantime, Matt pursues a relationship with a great girl, Erica (a beautiful Shannyn Sossamon), who he met at the local laundromat. Also by design it just happens that Erica has a history of dating weirdos, and she works for Cyber Nanny, a company that safeguards against porn-sites. Matt also finds out that Nicole is back from Europe and now engaged, and she will not let him forget this. What makes the movie special is that Matt really falls in love with Erica without sleeping with her, and that he remains abstinent, because he said so... This is refreshing. Josh Hartnett is great here. His Matt is a good-looking, charming guy who makes an insane choice and lives with it. Hartnett also comes across as empathetic, as a man thrust in an almost impossible situation where everyone is betting on his failure. He has a quiet strength about him, is very funny, and totally believable. Shannyn Sossamon is stunning-- you can see why Matt falls for her. And when she wonders if Matt is gay, this is hilarious. Sossamon's Erica is smart and compassionate with great humanity. Playing a woman wondering why the guy she is attracted to doesn't want to have sex with her is not an easy role... or natural. The humor in "40 Days" is raw, though enjoy the ride. Afterall it is a romance, managed well by Lehman, Harnett, and Sossamon. And we don't mind being offended as long as it is done smartly with style, and that we are ultimately touched.
MisterYoda ?
Super Reviewer
½
I enjoyed the orginality of the film, its your post "teen flick" romance located in New York city which itself is interesting, I just wish they used more local areas of NYC instead of the flats (homes). It wasn't so much a comedy but a "feel good" flick.
Alexander Wilson
Super Reviewer
40 Days and 40 Nights Quotes
There are no approved quotes yet for this movie.