The 40 Year Old Virgin
(2005)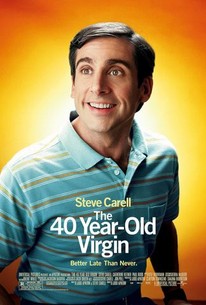 TOMATOMETER
AUDIENCE SCORE
Critic Consensus: Steve Carell's first star turn scores big with a tender treatment of its titular underdog, using raunchy but realistically funny comedy to connect with adult audiences.
The 40 Year Old Virgin Videos
The 40 Year Old Virgin Photos
Movie Info
One man nervously ventures forth into the final frontier in this comedy starring comic actor Steve Carell. Andy Stitzer (Carell) is a cheerfully geeky guy who is settling into middle age with his large collection of comic books, action figures, and collectable models. Andy works in an electronics store, and seems reasonably happy with his life. However, one day his friends and co-workers David (Paul Rudd), Jay (Romany Malco), and Cal (Seth Rogen) discover that Andy has a secret -- due to his rather severe jitters around women, Andy is still a virgin. Andy's pals are appalled at this state of affairs, and set out to find a woman who'd be willing to get horizontal with him. After a number of disastrous dates, everyone thinks Andy has finally struck gold when he meets Trish (Catherine Keener), an attractive single mother who takes an immediate liking to him. What the other guys don't know is that Trish has just gotten out of a bad relationship, and has informed Andy she isn't ready to be intimate with him just yet. The 40-Year-Old Virgin was the first feature film directed by Judd Apatow, who previously served as a writer and producer for the well-regarded television shows Freaks and Geeks, Undeclared, and The Larry Sanders Show. ~ Mark Deming, Rovi
News & Interviews for The 40 Year Old Virgin
Critic Reviews for The 40 Year Old Virgin
Audience Reviews for The 40 Year Old Virgin
½
Steve Carell proves to be a really talented and funny actor in his first main role on the big screen, and this is a solid comedy that, even if a bit too long and structured more as a series of isolated sketches, offers a lot of fun with its largely improvised lines and amusing performances.
Carlos Magalhães
Super Reviewer
½
If ever there was a one joke film...So as you may have guessed this is all about a dude who is the ripe old age of 40 and has yet to have jiggy jiggy. Just looking at the cast line up and director for this film you know exactly what to expect comedy wise, there's gonna be infantile toilet humour and lots of sexual innuendos. But wait! its not all like that, its not gone completely down the 'Deuce Bigalow' route, beneath all the visual gags and nerd references there is actually a heart warming rom-com here. The film kicks off as you would expect and its really quite amusing, Carell is perfectly cast as the simple lonely virgin in his amazingly decent and spacious flat, How does he afford that place with the job he's in?!. Naturally Carell's character has been given the stereotypical nerd look, the silly childish way most males would perceive a single middle aged man with no girlfriend. 'Andy's' home is a haven for all sci-fi comic book merchandise geeks everywhere, a treasure trove of collectibles, action figures, boxed action figures, posters etc...the rather over used and cliched stereotypical view on single guys that might play Dungeons & Dragons too much. Admittedly it is amusing but it does kinda wane quickly to be honest, much like the humour. At first it is funny watching Carell struggle to fit in with his alcohol consuming friends, its probably awkward for most as I'm sure many of us have actually been in that position. Trying to fit in with your mates and not stick out like a sore thumb, we can all relate to these things at some point in our lives and this is why it does hit home and make you cringe and smile at the same time. Problem was for me it all got very old very fast. The whole infantile college boy type humour, trying to score and pull birds, drinking whilst mocking Andy for the fact he gets more aroused by movie collectibles rather than women (at times). I do like Seth Rogan so that did help along the way, he always comes across like a lunatic about to flip which is hilarious. Thing is once we've had the 'outing' of Andy and the first few attempts to get him laid it just becomes boring. As we get towards the end of course things get mushy as Andy does find the right woman, they have spats, realise they are meant for each other and eventually naturally become an item, happily ever after. Yeah yeah spoiler alert but who cares, like you can't see that coming a mile off. On the whole you gotta give kudos to Carell for making Andy such a likable guy and to Keener for giving such a touching caring performance as his older girlfriend. Thanks to them the film is elevated above a silly comedy purely about having sex. As for that song n dance routine at the very end...what the hell was that about?!.
Phil Hubbs
Super Reviewer
½
An unexpected hit with a solid delivery in comedy and even drama. The 40-Year-Old Virgin's realistic tone provides for a film that is as impacting as its cast's performances. Steve Carell leads an ensemble that is crude and raunchy from start to finish with the help of the insightful Judd Apatow. 4.5/5
Eugene Bernabe
Super Reviewer
The 40 Year Old Virgin Quotes
| | |
| --- | --- |
| Haziz: | So tell me Martel: why weren't we invited to the party? What are we....Al-Qaeda? |
| | |
| --- | --- |
| Andy Stitzer: | I may not have had sex, but I can fuck you up. |
| | |
| --- | --- |
| Paula: | Hey Andy, take a look at your pal. |
| Andy Stitzer: | Oh my God. |
| Paula: | Yeah, he's performing a public colonoscopy. |
| | |
| --- | --- |
| Jay: | From now on, your dick is my dick. I'm getting you some pussy. |