42
(2013)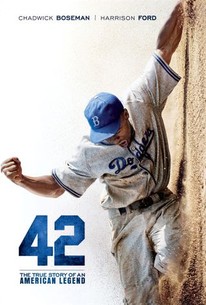 TOMATOMETER
AUDIENCE SCORE
Critic Consensus: 42 is an earnest, inspirational, and respectfully told biography of an influential American sports icon, though it might be a little too safe and old-fashioned for some.
Movie Info
Hero is a word we hear often in sports, but heroism is not always about achievements on the field of play. "42" tells the story of two men-the great Jackie Robinson and legendary Brooklyn Dodgers GM Branch Rickey-whose brave stand against prejudice forever changed the world by changing the game of baseball. In 1946, Branch Rickey (Harrison Ford) put himself at the forefront of history when he signed Jackie Robinson (Chadwick Boseman) to the team, breaking Major League Baseball's infamous color line. But the deal also put both Robinson and Rickey in the firing line of the public, the press and even other players. Facing unabashed racism from every side, Robinson was forced to demonstrate tremendous courage and restraint by not reacting in kind, knowing that any incident could destroy his and Rickey's hopes. Instead, Number 42 let his talent on the field do the talking-ultimately winning over fans and his teammates, silencing his critics, and paving the way for others to follow. (c) WB
Audience Reviews for 42
½
"42" tells the inspirational true story of Jackie Robinson and how he became the first African American baseball player allowed to play in the Major League. I must say, I found myself really enjoying this film. From it's terrific performances to it's perfect setting, this is one of my favourite films based around the sport of baseball that I have seen in quite a few years. Charming, funny when it needs to be (for relief), and emotional when it matters. Almost everything in this film is there to move the story into the following scene, and I love movies when they take the time to do that. Chadwick Boseman really has a bright career ahead of him. Unlike the film "Moneyball," this film is a much grittier old-styled tone and sometimes films do that for style over substance, but "42" does it very very well. Extremely well-written, very well acted, and in my opinion, edited superbly. The editing style of this film was very unique and I admired that. Overall, a very emotionally charged picture that I highly recommend. This film will probably be overlooked in years to come, but not by me. Sure, you will see the same racial elements you have seen in many films through the years, but it just feels different here. A must-see for sports fans and film-fans alike.
½
This movie is really average. It had all the opportunity to tell a great story about a legendary icon, but is instead overly sentimental and incredibly mediocre. It could have had a savage bite but all we get is a nibble.
Nikhil Nandu
Super Reviewer
This is a great movie for anyone. If you like baseball, great, but it's not really necessary. If you like movies set in the '40s, you'll love it. If you like well done bio-dramas, you'll love it. Our whole family was engaged by this movie... lots of discussion about racism, tolerance, and self control in the face of stupidity. The acting was top notch. The story was well put together, with plenty of chuckles, along with the drama. Nicely done film. Kudos!
Cynthia S.
Super Reviewer
42 Quotes
| | |
| --- | --- |
| Branch Rickey: | Dollars aren't black or white. They're green. |
| | |
| --- | --- |
| Branch Rickey: | Ya think God likes baseball, Herb? |
| Herb Pennock: | What- What the hell is that supposed to mean? |
| Branch Rickey: | It means someday you're gonna meet God and when he inquires as to why you didn't take the field against Robinson in Philadelphia and you answer that it's because he was a Negro, it may not be a sufficient reply! |
| | |
| --- | --- |
| Leo Durocher: | I don't care if he is yellow, or black or has stripes like a zebra! If Robinson can help us win and everything I have seen says he can, then he is going to play on this ball club! Like it, lump it, make your minds up to it because he's comin'! And think about this when your heads hit the pillow tonight. He's only the first, boys. Only the first. There're more comin' every day and they have got talent and they want to play. And they are gonna come scratchin' and divin' so, I would forget your petition and worry about the field because unless you fellas pay a little more attention to your work, they're gonna run you right outta the ballpark! |
| | |
| --- | --- |
| Leo Durocher: | Well, I don't know much about the Bible. Look, I didn't go to school just to eat my lunch either. I'll play an elephant if he can help us win and to make room for him I'll send my own brother home if he's not as good. |