4.3.2.1
(2010)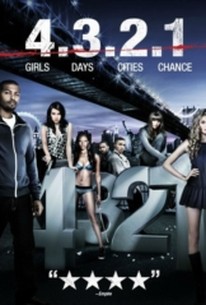 Movie Info
Writer/director Noel Clarke (Kidulthood, Adulthood) returns to the helm for this frenetic urban thriller following four friends who went their separate ways, but find their fates colliding following a chance meeting with a group of ruthless diamond thieves. Jo (Emma Roberts, Cassandra (Tasmin Egerton), Kerrys (Shanika Warren-Markland) and Shannon (Ophelia Lovibond) used to be inseparable, but lately they've begun to grow apart. As Jo struggles for a sense of direction while earning a meager income in a sterlile supermarket, Cassandra races off to New York for a fling with a guy she met online, militant feminist Kerrys wages an unrelenting war against a male dominated society, and Shannon falls into a treacherous, self-destructive tailspin. But just when it seemed as if these old friends were headed down different paths, a brazen crime thrusts them back together for an exhilarating adventure that will prove just how unpredictable life can really be. Sean Pertwee and Kevin Smith co-star. ~ Jason Buchanan, Rovi
Critic Reviews for 4.3.2.1
Audience Reviews for 4.3.2.1
Not a bad movie, it kept me interested so i'd watch it again. I thnk Noel Clarke has got some talent in his movies and he picks an exceptional cast, ive always llked stoyrlines like this where they all interlink. worth a watch
Film Crazy
Super Reviewer
½
"4 Girls, 3 Days, 2 Cities, 1 Chance....." . While Jo (Roberts) is chained down in a dead end supermarket job, her friends are all out on their own separate adventures: Cassandra (Egerton) is jetting off to New York to meet her Internet boyfriend; Kerrys (Warren-Markland) is on a one woman crusade fighting for female liberation and Shannon (Lovibond) is on a one way trip to meet her maker.
REVIEW
From the director of Adulthood comes a shaggy dog story that seems to go on forever: Each girl has her little segment over the same time period before their stories meet up at the end. There are some ingenious touches here and there, but this is certainly a lot less clever than it thinks it is. None of the individual parts rises above the mediocre, and most will bore you before the end with the unpleasant characters and the overuse of street slang. Note to the writer: throwing in gratuitous sex scenes might be a good diversion, but it can't distract us if the plot is poor and the performances aren't up to standard. It's also slightly ironic how this supposed celebration of 'girl power' is probably one of the most sexist films I've seen in it's depiction of women as either dumb bimbos or sex obsessed lesbians. It's perfectly watchable, but I can't help thinking there are better movies on TV right now, more deserving of your time.
Lorenzo von Matterhorn
Super Reviewer
A generic and immature offering. The film is entertaining, if you can slide aside some terrible performances. It's something a teenager would write after watching Lock,Stock..., Pulp Fiction and GO!. Those fast paced crime films reveled in their daft dialogue, awesome soundtrack choices, and large ensembles. Unfortunately, 4.3.2.1 seems as though nobody read the thing before making it. The huge amount of coincidences do nothing but cheapen the film. As the four stories are revealed, some seem to have nothing to do with anything, while others have so much going on it's impossible to give a fudge. Why did I need to see the story about a girl going to New York, being tricked into sex, etc. I don't know. Other than it opening up some American locales and bizarre Kevin Smith/Mandy Patenkin roles appearances. I don't mind a few "What are the odds?" moments in my movies, but this film is dependent on them. In a true sign of incompetent writing, every time the film hits a dead end, a lucky coincidence kicks the story down the road. If you stick films on and don't intend to think about it ever again, then you should watch this. It can be a bit infuriating for others.
Luke Baldock
Super Reviewer
4.3.2.1 Quotes
There are no approved quotes yet for this movie.