44 Inch Chest
(2010)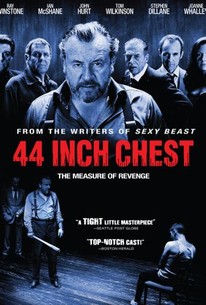 Movie Info
Colin is in agony, shattered by his wife's infidelity. However, he has friends who do more than stand by -- they kidnap the wife's French lover and hold him prisoner so that Colin can restore his manhood with revenge. A kangaroo court takes place and as the situation escalates Loverboy's life hangs in the balance as Colin wrestles with revenge, remorse, grief and self pity, all the while egged on by his motley crew of friends who just want him to get on with it so they can get down the pub.
News & Interviews for 44 Inch Chest
Critic Reviews for 44 Inch Chest
Audience Reviews for 44 Inch Chest
Fantastic cast, acted well by some of the greatest Actors of our time , A superb British cast and i found the language to be highly amusing and found John Hurt to be refreshing as i have never seen a character like that from him! That said i cant have any positive comment regarding the film, you hope so much that its going somewhere and that this couldnt possibly be the sole engine of the movie, unfortunately it was it and your left disappointed and wanting the hour and a half of your life back! Great cast, shame about the storyline!
Film Crazy
Super Reviewer
Remember the British gangster film "Sexy Beast" released in 2000? You know? The one where "Gandhi" goes ape shit? Well, this film brings some of the cast and crew back together again. Unfortunately, it seems that Ben Kingsley wasn't taking 'yes' for an answer this time and isn't involved. It does, however, have actors Ray Winstone and Ian McShane again, as well as screenwriters Louis Mellis and David Scinto. Now, this may not have gained the same acclimations as it's predecessor but this is still an undeniably powerful film in it own right. When his wife (Joanne Whalley) says she's leaving him for another man, Colin Diamond (Ray Winstone) refuses to take it. He enlists the help of his criminal friends Meredith (Ian McShane), Peanut (John Hurt), Archie (Tom Wilkinson) and Mal (Stephen Dillane) in abducting her lover (Melvil Poupaud). They take him back to an old flat and keep him in a wardrobe, while deciding on how to take revenge. Where "Sexy Beast" had it's English lowlife criminals sunning it up in the villas of Spain. This film has them on their own turf. It's back to the grit and grime of dear ol' 'Landan' where Winstone gets to be 'the Daddy' again. This is no bad thing though as it's what Winstone does best. And... he's not alone. He's joined by an excellent cast of familiar British actors - who all get their turn at spouting some vitriol. It's the performers that's the best thing about this and having such choice actors as Hurt, Wilkinson, McShane, and the very underrated Dillane all backing up the lead, is a thing of dramatic gold. The performances are uniformly superb and it's an added bonus that they don't go anywhere. This is a moody and intense chamber piece that has all of the actors sharing the same limited space for almost the entire film, making it more akin to a stage-play. There is a brooding intensity to it that only benefits from the actors' terrifying and multilayered performances. On the surface, the characters have such a ferocity that they resemble a pack of rabid dogs but there are undercurrents of repression and weakness, at times making them about as threatening as a poodle. It's this very attention to characterisation that keeps this film going. It's also wonderfully shot in a sepia hue that adds a stark and bleak environment to the match the material. It may be too grim and misogynist for some tastes but there's no denying it's vehement and vigorous approach. I greatly enjoyed "Sexy Beast" but it is wholly unfair that this film was compared and ultimately overshadowed by it. This is an impressive, moody and claustrophobic chamber piece with an ensemble that deliver with all the force they can muster.
Mark Walker
Super Reviewer
44 Inch Chest may have tried to take top position for the biggest amount of profanity in a film, which I'm sure makes up probably half the dialogue, not that I'm opposed to language of any kind if it works for the film, but does get a bit silly. On one hand you have a bunch of Actors who have in the past provided us with some great performances, but the storyline is weak and you seem to be hoping all the way through that something more exciting will occur, it never does.
Lady D'arbanville
Super Reviewer
44 Inch Chest Quotes
| | |
| --- | --- |
| Loverboy: | What I do with my 12 inch long is not your business... |
| | |
| --- | --- |
| Colin Diamond: | Good boy..good boy...NOT good boy! |
| Colin Diamond: | Good boy... good boy... NOT good boy! |
| | |
| --- | --- |
| Old Man Peanut: | Absolutely brilliant.Should have got an award! |
| Old Man Peanut: | Absolutely brilliant. Should have got an award! |