47 Ronin
(2013)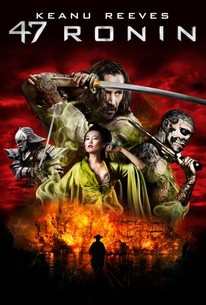 TOMATOMETER
AUDIENCE SCORE
Critic Consensus: 47 Ronin is a surprisingly dull fantasy adventure, one that leaves its talented international cast stranded within one dimensional roles.
Movie Info
From ancient Japan's most enduring tale, the epic 3D fantasy-adventure 47 Ronin is born. Keanu Reeves leads the cast as Kai, an outcast who joins Oishi (Hiroyuki Sanada), the leader of 47 outcast samurai. Together they seek vengeance upon the treacherous overlord who killed their master and banished their kind. To restore honor to their homeland, the warriors embark upon a quest that challenges them with a series of trials that would destroy ordinary warriors. 47 Ronin is helmed by visionary director Carl Erik Rinsch (The Gift). Inspired by styles as diverse as Miyazaki and Hokusai, Rinsch will bring to life the stunning landscapes and enormous battles that will display the timeless Ronin story to global audiences in a way that's never been seen before. -- (C) Universal
News & Interviews for 47 Ronin
Critic Reviews for 47 Ronin
Audience Reviews for 47 Ronin
½
Mixing a classic Japanese tale with fantasy element this action flick suffers less from the undecided tone but from underdeveloped characters. Some easily could have become quite interesting with just a few more brush strokes here or there. As for the effects, the beast-like CGI creatures look great, especially the one in the opening sequence. The man-like ones on the other hand are horrible and take you right out of the experience. While the showdown starts out fun, it's a little short and culminates in an infuriatingly stupid film ending. You gotta admire the film's attempt to respect Japanese traditions, but the message is ultimately a dull one. Overall an entertaining, but shallow and ultimately pointless experience.
Seize Eternity. Good Film! In a nut shell. 47 Ronin has a fair amount of mystical magic and demons peppered throughout a historical tail. A tale of Samurai who's master is killed and their status is reduced to Ronin. Only for them to rise up and seek revenge against the evil ruler and his witch who are responsible. Visually the 47 Ronin is beautiful. The costumes design and color choices to separate each of the different clans is impressive in it's complexity. The sets have an epic feel that is grounded and doesn't feel to fantastic, but rather believable. All things considered, the title of the film is a bit of a misnomer - it would more accurately be called 2 Ronin, subtitled Oishi And Kai's Excellent Adventure - and it suffers from a lamentable lack of humour and historical accuracy. But it's not a complete travesty. Tucked away beneath a layer of mystical beasts and witches lies a story with enough heart, nobility and soul to survive even the oddest twists and turns. While hunting in the forest, Lord Asano of Ako and his samurai find a young half-breed and take him with them to live in the castle. Several years later, Lord Asano holds a tournament to welcome the Shogun to Ako. The night after the tournament, Lord Asano is bewitched into hurting Lord Kira of Nagato, and is punished into committing seppuku by the Shogun. Realizing that it was a Lord Kira's evil plot, the samurais and the half-breed sets out for revenge against the Shogun's order.
Even though it is pretty bad, I think that critics were harder on this movie than they should have been. Some of the special effects scenes were solid and the action was lively enough that it kept people watching.
Nikhil Nandu
Super Reviewer
47 Ronin Quotes
| | |
| --- | --- |
| Oishi: | When a crime goes unpunished, the world is unbalanced. When a wrong is unavenged, the heavens look down on us in shame. We too must die for this circle of vengeance to be closed. We will leave this record of our courage so that the world will know who we were and what we did. Tonight we will regain our honor and avenge our lord. None of us knows how long he shall live or when his time will come. But soon all that will be left of our brief lives is the pride our children feel when they speak our names. Now we are forty-seven. |
| | |
| --- | --- |
| Kai: | I will search for you through a thousand worlds and 10,000 lifetimes until I find you. |
| | |
| --- | --- |
| Oishi: | Riku. You must make the whole world believe you've divorced me. It is the only way to protect you from what I have to do. No one but you and I can know that you are, and will always be, the joy of my life. |
| | |
| --- | --- |
| Shogun Tsunayoshi: | For the crime of disobedience, you should all be executed as common criminals, but you and your men follow the old ways of Bushido, to honor your lord and avenge treachery. I see only samurai before me. |