500 Days of Summer
(2009)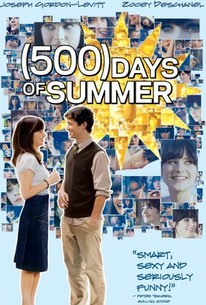 500 Days of Summer Videos
500 Days of Summer Photos
Movie Info
Joseph Gordon-Levitt and Zooey Deschanel star in director Marc Webb's wry, nonlinear romantic comedy about a man who falls head over heels for a woman who doesn't believe in love. Tom (Gordon-Levitt) is an aspiring architect who currently earns his living as a greeting card writer. Upon encountering his boss' beautiful new secretary, Summer (Deschanel), Tom discovers that the pair have plenty in common despite the fact that she's seemingly out of his league; for starters, they both love the Smiths, and they're both fans of surrealist artist Magritte. Before long Tom is smitten. All he can think about is Summer. Tom believes deeply in the concept of soul mates, and he's finally found his. Unfortunately for Tom, Summer sees true love as the stuff of fairy tales, and isn't looking for romance. Undaunted and undeterred by his breezy lover's casual stance on relationships, Tom summons all of his might and courage to pursue Summer and convince her that their love is real. ~ Jason Buchanan, Rovi
News & Interviews for 500 Days of Summer
Critic Reviews for 500 Days of Summer
Audience Reviews for 500 Days of Summer
Despite its clever idea, this unfunny romantic comedy full of clichés is centered on an annoying, uninteresting couple who never convinces us of what they feel - and it is almost impossible to understand how anyone would fall in love with Zooey Deschanel's detestable character.
Carlos Magalhães
Super Reviewer
500 Days is different love story, and worth watching. I would have rated it higher, but I found the non-linear presentation confusing. It felt like taking Shakespeare in class and having to read it a couple of times to figure it out.
I usually hate romantic comedies for the sheer fact that they always use the same, recycled ideas over and over again, despite changing the storyline slightly and changing the title. I was pleasantly surprised by 500 Days of Summer, I didn't expect much from the film, and I really thought it was going to be a clichéd rom com; however I was surprised that though it had traditional genre elements, it completely reinvented the style, and it took a very different route than your traditional genre film. The story is very good, as well as the acting and I enjoyed the chemistry of the two lead actors, Joseph Gordon-Levitt and Zooey Deschanel, whom are well suited for the parts they play. The vibe of the film is different, refreshing and it makes for one of the best romantic comedies that I have seen. This was a pleasant surprise and I thought it was a highly entertaining picture from start to finish, and it's one of the few genre films where we the ideas just connect with the viewer. For me, what really stood out for me were the two lead performances, which I thought were terrific and the direction by director Marc Webb keeps you involved from start to finish. Sure, there could have been some slight improvement here and there, but overall this is a superbly well crafted picture that definitely brings a breath of fresh air to the romantic comedy genre. Add to that a few dramatic elements, and you have a movie that is thoroughly engaging and above all worth seeing for viewers that are skeptical about these sorts of films. 500 Days of Summer is an accomplished film, one that is well acted and directed and it's a thoroughly engaging picture from start to finish.
500 Days of Summer Quotes
| | |
| --- | --- |
| Rachel Hansen: | Just because she likes the same bizzaro crap you do doesn't mean she's your soul mate. |
| | |
| --- | --- |
| Tom: | You're ridiculous. Your favorite Beatle is Ringo. |
| Summer Finn: | Damn right! Ringo's the best. |
| | |
| --- | --- |
| Vance: | I've been happily married for 30 years. She's the light that guides me home. Yes, it is from one of our cards. No, someone else wrote it. Doesn't make it less true. |
| | |
| --- | --- |
| McKenzie: | Love... shit, I don't know. As long as she's cute and she's willing, right? [Turns serious] I'm flexible on the cute. |
| McKenzie: | Love... shit, I don't know. As long as she's cute and she's willing, right? I'm flexible on the cute. |