54
(1998)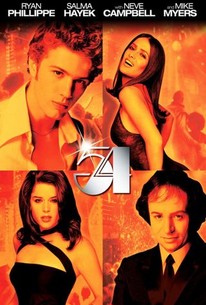 Movie Info
Mark Christopher wrote and directed this look back at the Disco Era when the popular Studio 54 was at its apogee in the late '70s. With obvious comparisons to Paul Thomas Anderson's Boogie Nights (1997) and Whit Stillman's The Last Days of Disco (1998), the story introduces working-class 19-year-old Irish-American Shane O'Shea (Ryan Phillippe), who has lived with his father and siblings since the death of his mother when he was 12. Shane quickly rises from busboy to bartender at Studio 54, co-owned and managed in a paternal manner by entrepreneur Steve Rubell (Mike Myers). Busboy Greg Randazzo (Breckin Meyer) and Greg's wife, Anita (Salma Hayek), the club's coat check girl, become Shane's new friends, and he encounters the possibility of romance with soap star Julie Black (Neve Campbell). The story spans the summer of 1979 until the decline of Studio 54 a year later with IRS investigations, followed by the arrest and jailing of Rubell. Costumes by Ellen Lutter capture the glitter and glam-glitz of the period. ~ Bhob Stewart, Rovi
Audience Reviews for 54
½
It is hard to believe that they managed to make a movie about glamour and music (with a great soundtrack) into something so uninteresting and vapid - to the point that ask ourselves why we should care or why these poorly-developed characters would even consider each other friends. (Theatrical version) (2.5/5) Mark Christopher's newly-restored original cut is remarkably different from the 1998 theatrical version, especially with regard to what it wants to say. (Director's Cut, full review on filmotrope. com) (4/5)
Carlos Magalhães
Super Reviewer
½
54 is a decent drama that boasts a good cast, but the biggest problem here is the fact that it tries to a broad movie in terms of storytelling, but it never gets quite there. Some of the cast were good, especially Mike Myers who is the film's strongest asset. 54 gives us a glimpse of the lifestyle and excess of the famed nightclub. This film is limited by a so-so script, one that is clearly underdeveloped. However I found the film somewhat entertaining, but it could clearly have been much better as well. The cast do what they can with the material and they manage to make it work for the most part. This is almost a forgotten film as no one seems to remember the film. The film is not great, but it manages to be interesting and it could have been much better as well. This is worth seeing if you have nothing else better to watch. Myers is good here and like I said, he is the film's best aspect here. The film is a decent drama that should have been much better, and it could have been much better if the script could have been so much better if the script would have been better written. Decent for what it is, 54 is mindless dramatic mindless drama that gives you a hint of what it was like to party in the famed night club. This is a film that scratches the surface, but like I said, should have and could have been much more as well. When the credits you do end up feeling like the film should have been more and you do realize that when the credits start to roll.
Good music and an excellent Mike Myers performance are the highlights of this movie but neither Phillippe nor Campbell can act so the film has two empty spots at its center.
54 Quotes
There are no approved quotes yet for this movie.