5 Bambole per la Luna d'Agosto (5 Dolls For an August Moon)
(1970)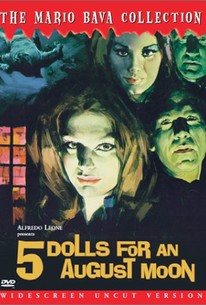 AUDIENCE SCORE
Critic Consensus: No consensus yet.
5 Bambole per la Luna d'Agosto (5 Dolls For an August Moon) Photos
Movie Info
Legendary horror director Mario Bava did not want to make this standard thriller, and it certainly bears the lackadaisical mark of a contractual-obligation film. The plot is yet another variant on the Ten Little Indians story, with an inventor taking a group of investors to an island, where they are murdered one by one by an unseen killer. There are picturesque beach scenes and some well-composed images of bodies hanging in a meat locker, but it has all been done before, and better. The visuals are stylish and the production design is sleek, but the familiar storyline drags and the film never reaches the delirious frenzy of such Bava classics as Antefatto despite the best efforts of a cast including Edwige Fenech, Renato Rossini, and William Berger. ~ Robert Firsching, Rovi
Critic Reviews for 5 Bambole per la Luna d'Agosto (5 Dolls For an August Moon)
Audience Reviews for 5 Bambole per la Luna d'Agosto (5 Dolls For an August Moon)
I commited to this film as a Bava fan, but I would not subject anyone other then another Bava fan to sitting through it. Aside from a great location, sets, costumes and music...there is not a whole lot of positive things to say about this film. Not sure if it was the bad writing, editing, acting or a combination of all three...but this was very hard to sit through.
With an offhand plot, lines and character -- so chintzy they don't feel like a structure underneath anything -- this seems like a work made out of pure formalistic genius. And methodical genius: every long take is used for as many camera angles as possible or the character gets to traverse the frame in like 10 ways, and NONE of these long takes are economical cliches. A cold world, empty of conscience and full of rich colors and vivid lines and curves. The characters have about as much humanity as figure shapes, and hang together civilly.
Adam Mahler
Super Reviewer
½
Art direction and cinematography are as distinctive as any of Bava's other giallo films of the period, but the garbled script to what is essentially little more than a standard body-count movie really lets this one down. After a plodding and talky start, the film disintegrates into a total mess. Bava pulls off the odd visual flourish, but such scenes never gel together. Still, the mesmeric use of zooms, focus pulls, and tracking shots and the stylish use of colour ensures that, from an entirely aesthetic perspective, this film never becomes boring, and as an auteur piece, is well worth a watch. Now, if only I could work out what the hell happened in it...
Cassandra Maples
Super Reviewer
5 Bambole per la Luna d'Agosto (5 Dolls For an August Moon) Quotes
There are no approved quotes yet for this movie.