61*
(2001)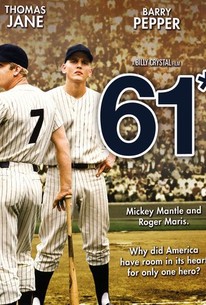 Movie Info
Noted baseball fan Billy Crystal directed this made-for-cable drama set in the summer of 1961, as two of the strongest hitters in the major leagues, Mickey Mantle (Thomas Jane) and Roger Maris (Barry Pepper), find themselves neck and neck in a battle to break Babe Ruth's long-standing record for most home runs in a season. Both men were playing for the New York Yankees at the time, and as the two men came within grasping distance of Ruth's record, their loyalty as friends and teammates was put to the ultimate test. 61 also features Richard Masur, Bruce McGill, Anthony Michael Hall, and Renee Taylor; the scenes set in Yankee Stadium were filmed at Michigan's Tiger Stadium, shortly after the Detroit Tigers shuttered the venerable playing field and relocated to a newer facility.
Audience Reviews for 61*
½
Being a huge fan of baseball, but someone who was born much later than the 1961 Home run race, made 61* a real joy of a viewing experience for me. Not only is it a fascinating look at what it's like playing baseball every day for 162 games a year, but it provided perspective on the interesting relationship that players have with fans. I think even more so than the race itself, it was that dynamic that sold me on 61's story. I think sometimes people forget that athletes and celebrities are humans too. Heck, even I find myself getting caught up in it all sometimes at these events and forget that these athletes have families and lives just like the rest of us. Sure, I loved watching the film explore Mickey Mantle and Roger Maris' power on the field, but it was fascinating to watch them go about their lives outside the diamond in an entirely different manner. I'm not sure how much of this movie is heightened or "Hollywood-ized", but that didn't really play into the determining factor for me. Personally, I feel as though 61* rivals some of the great sports movies in balancing on and off the field issues. However, the film isn't without its flaws. 61* is a 2001 HBO movie made for TV, and I think that showed. The CGI, or lack thereof, was very noticeable, especially in the moments that needed to hit well. For example, I don't really need to see a slow-motion incredibly fake baseball coming towards my face before Roger smacks it out of the park. And I feel as though this movie had a tough time with the really big emotional and dramatic moments. Don't get me wrong, I like both Barry Pepper and Thomas Jane in the lead roles but I don't think their performances come close to Kevin Costner in Field of Dreams or Robert Redford in The Natural. Not that they necessarily need to, but when the games are in their biggest moments, it felt like a TV production. But as I said, this movie holds up incredibly well because of its content matter, especially now that baseball is desperately needing another HR race for its popularity. Plus, if we wipe away the guys who broke the record using steroids, Maris would still hold it with 61. It's actually remarkable what Maris was able to do at that particular stage of baseball, and considering he was never really able to recapture that power. So just for loving the game of baseball alone, 61* is worth a look. 7.7/10
Thomas Drufke
Super Reviewer
½
"Stick to what you know" is advice often rendered to art students and for Mr. Billy Crystal of New York City that apparently is just the ticket as he produced and directed this affectionate nod to American baseball, and most particularly the homerun race between Yankees Mickey Mantle (Thomas Jane) and Roger Maris (Barry Pepper). All in all the work is a nice memento of times gone by, such as when baseball was #1 in America.
Kevin M. Williams
Super Reviewer
Quality HBO film, great acting and screenplay. Only movie I've seen where Barry Pepper has a lead role, he's solid as balls.
Lenny Muggsy
Super Reviewer
61* Quotes
There are no approved quotes yet for this movie.