6 Bullets
(2012)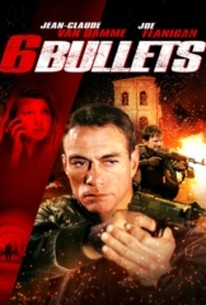 AUDIENCE SCORE
Critic Consensus: No consensus yet.
Movie Info
Veteran mercenary Samson Gaul (Jean-Claude Van Damme) knows that in the heat of battle, every bullet counts. He retired from combat when his actions resulted in the deaths of helpless victims, but now he's the last hope for a desperate father. Mixed Martial Artist, Andrew Fayden (Joe Flanigan, Stargate: Atlantis) knows how to fight, but alone he's unprepared to navigate the corrupt streets of a foreign city to find his kidnapped daughter. Together, these warriors will stop at nothing to tear apart a vile network of criminals that prey upon the innocent.
Critic Reviews for 6 Bullets
There are no critic reviews yet for 6 Bullets. Keep checking Rotten Tomatoes for updates!
Audience Reviews for 6 Bullets
This is the direct-to-VOD, poor man's Taken with JCVD in it. Van Damme tries as hard as he can to give a few dimensions and some depth to his character, a veteran mercenary and kidnap rescue expert; but the script really doesn't allow for much time and depth. This one is pretty forgettable even with a few entertaining fight scenes.
Patrick Wrye
Super Reviewer
Another month another straight to DVD JCVD action flick, well almost. Quality wise JCVD's action fodder is slightly better than his other fellow aging action stars like Dolph and Seagal but its still all the same stuff really. This time JC is an ex-merc who helps the police in finding missing people or mainly kids. Expect the usual fudge ups and self loathing as JCVD's character goes from bottom of the barrel to back on form and saving the day, typical emotional rollercoaster drama. Not much martial arts to be seen here, this is more of a kidnap rescue type thing, JC in military mode with stealth and plenty of gunfire. Predictable and has all the regular cliches that have been seen/used before in tonnes of similar films, but comparing to other straight to DVD JCVD films its not too bad.
Phil Hubbs
Super Reviewer
½
An explosive and full-throttle action-thriller. A riveting knockout. It`s Taken meets Man on Fire. It`s smart, gritty, intense, stylish and very effective. A strong story with strong characters and great development of those characters, which only makes you more drawn to them. It grabs you and does not let go. Director, Ernie Barbarash follows up his Assassination Games with another excellent character drawn action film that hits its mark perfectly. Barbarash knows how to balance a story and character oriented action film better then most and delivers in it very well. It`s well-crafted, exceptionally performed by its cast and loaded with thrilling action sequences. A wickedly entertaining and adrenaline-pumping edge of your seat action-packed thrill-ride. One of Van Damme`s best action films ever. Jean-Claude Van Damme gives a great and thrilling performance, definitely one of his best. Joe Flanigan is terrific, and gets to show off some action chops. Flanigan and Van Damme work well together. A sizzling and jaw-dropping ass-kicker.
6 Bullets Quotes
There are no approved quotes yet for this movie.