88 Minutes
(2008)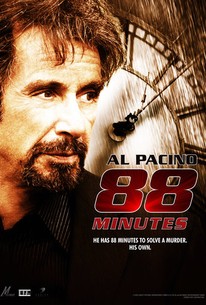 Movie Info
Jon Avnet directs Al Pacino in the thriller 88 Minutes. Pacino plays university professor Jack Gramm, who occasionally assists the FBI in matters of forensic psychiatry. His recent testimony against a freshly convicted criminal seems to be the reason he has gotten a scary phone call informing him he will die in 88 minutes. As with the like-minded thriller D.O.A. (both the original and the remake), the protagonist must use his skills in order to track down who has hatched this evil plot and hopefully prevent his own demise. Alicia Witt and Leelee Sobieski co-star as the professor's star students.
News & Interviews for 88 Minutes
Critic Reviews for 88 Minutes
Audience Reviews for 88 Minutes
½
Pacino made me stick with it, and supporting players Alicia Witt and Neil McDonough weren't entirely awful. As for the rest of it... ugh. Terrible direction, and "Seattle" was so obviously Vancouver (with Canada Post trucks, Roots and Shoppers Drug Mart storefronts on the skyline and newsboxes for 24 Hours and Dose cropping up) that it hurt. Lazy location scouts, to say the least. The film had enough action and a still-got-it Pacino at its core, but it undercut every exciting scene with lengthy explanations of what was going on, which repeatedly killed the flick's momentum. What would also be interesting would a culprit with a motive, or an actor with more talent than Leelee Sobieski (that would be an actor with any talent whatsoever). The worst part of the film was the purported climax, and unfortunately, it overwhelmed the few bright spots the film had shown so far. Beyond Pacino, this one's a dud.
Daniel Perry
Super Reviewer
88 Minutes is the worst film of 2008. The film considering who was involved (Al Pacino) such a cinematic legend might of been good. Unfortunately, it wasn't this film is one of the worst films I have ever seen. The film also proves that even the greatest actors can make beyond aweful films. 88 Minutes relies on every crime cliche in crime thrillers, but unfortunately, this is a predictable piece of trash, because after all, we've seen it all before. Overused cliche as in the person youleast expect is the killer and so on. This is a pile of shit that should've never been made.
Director Jon Avnet released this film with Al Pacino just before "Righteous Kill" where he reteamed Al with Bob. If you have seen the disaster that was that film then you pretty much get the idea where this one is headed. In fact, if I were Bob DeNiro I'd be pretty peeved that Al never mentioned a word about working with Avnet, a director of such stinking magnitude. In brief, Pacino plays Dr. Jack Gramm a professor of criminal psychology who has also helped the police with the conviction of a serial killer who is soon to be executed. It transpires though, that the good Doctor Pacino may have got things wrong in his findings and it's also at this time that he recieves an anonymous phone call informing him that he has 88 minutes to live. Some feeble attempts at tension and plotting then ensue, with Al probably spending more than 88 minutes to blow-dry his ever increasing hairstyle. I can't believe I am wasting my time even writing about this film as it has already stolen more than enough from me. I do this as a warning to all. This is unequivocally the worst Pacino film ever and his worst performance. He spends a lot of the film on the phone and on second thoughts, he could have probably phoned in a better performance rather than wasting his (and our) time turning up. Never mind minutes, 88 Seconds is too long for this piece of trash.
Mark Walker
Super Reviewer