8 1/2
(1963)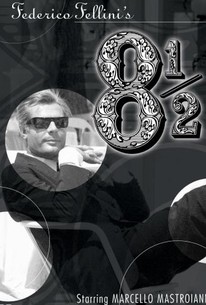 TOMATOMETER
AUDIENCE SCORE
Critic Consensus: Inventive, thought-provoking, and funny, 8 1/2 represents the arguable peak of Federico Fellini's many towering feats of cinema.
Movie Info
Exhausted from the success of his latest blockbuster film, already feeling pressured to come up with another smash hit, and suffering from a massive creative block, filmmaker Guido Anselmi (Marc Mastroianni) heads off for a mountain resort to recharge and come up with a new idea. His search for inspiration leads him down many strange, twisted paths and these journeys provide the basis of the rollicking, at times riotous, long and mesmerizing 8 1/2, simultaneously one of Fellini's best loved and most deeply personal films. Anselmi's mental journey begins with thoughts of the past. He remembers his parents and a strange scene in which he sees an overweight prostitute dancing on a beach. Boyhood memories are gradually supplanted by those of adolescence and eventually lead him to his current romantic travails as he tries to service a wife and mistress. Increasingly the line between his musing and his real-life activities begins to fade, making it difficult for viewers to discern. In one scene he gives a press conference on the set of his unmade film. Still exhausted and empty, he cannot answer the many questions asked by the media about the production. Ultimately, he abandons the film and begins dreaming of death and longing for the freedom it could bring. As the fantasy progresses, every major figure in his life appears. He himself becomes a flute-playing child and together he and the people begin to dance in a circle as the story comes to a close. The title represents the number of films Fellini had made at that time.
News & Interviews for 8 1/2
Audience Reviews for 8 1/2
½
Fellini takes his existential musings from La Dolce Vita to a radical level with this fascinatingly intimate and gorgeous exercise in self-reflection (the title couldn't be more perfect), shaping it as a stylish anti-comedy and building it upon a surprising anti-structural narrative skeleton.
Carlos Magalhães
Super Reviewer
½
Finely executed picture 8 1/2 is a splendid film experience that boasts a great cast, brilliant direction and a wonderful story. Shot in gorgeous Black &White, I felt that it added so much atmosphere to the film and in retrospect gave a much more in depth atmosphere that elevated the simple story quite well. This is a great film, one that should be seen by cinema fans, and if you enjoy classic, foreign dramas, then you're in for a real treat. I really enjoyed the film, and its premise, for what it is it's definitely of the top films that has ever been committed to film, and it's well worth your time. The story is simple, yet engaging, and it's a smartly crafted picture that delivers something truly special. 8 1/2 is a fine picture that manages to be captivating and enthralling from the first frame right up to the final shot due to the simplest of plots. Under the direction of Frederico Fellini, it is a standout feature, a film that is near perfect, and like I said, is well worth your time if you enjoy the genre. 8 1/2 works very well due to powerful performances, effective storytelling and great direction, and for what it is, it's a finely executed drama that does something quite wonderful with its story. This is a stunning picture that is enthralling from start to finish, and is one of cinemas finest films. Although at times a little long, you end up not caring because the story and performances are so rich in character that the make the weaker moments seem insignificant compared to the entire film. 8 1/2 is a stunning piece of filmmaking that will delight anyone looking for powerful, engaging storytelling, and it's a movie that is accomplished in the way it handles its subject.
An author trying to find his story. I saw this movie in an art house when I was a kid and didn't get it. I didn't understand the imagery. I certainly didn't understand his problem. Now I do.
Bathsheba Monk
Super Reviewer
8 1/2 Quotes
There are no approved quotes yet for this movie.