8 Heads in a Duffel Bag
(1997)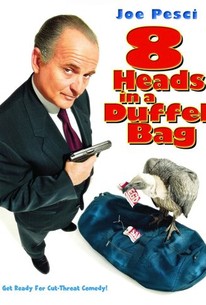 8 Heads in a Duffel Bag Photos
Movie Info
In this macabre farce, a baggage switch at a busy airport results in headaches for the med student who inadvertently takes a gangster's carry-on bag and discovers that it is filled with the heads of eight prominent L.A. gangsters.
Critic Reviews for 8 Heads in a Duffel Bag
Audience Reviews for 8 Heads in a Duffel Bag
Formula drawing room comedy that has everybody reacting to a thing, whatever the thing happens to be in whatever story (Guess what the thing is in this movie? Go on, try it, you might get lucky), only this comedy adds Pesci as his trademark mob hitman. It gets old faster than it should've as Pesci's role is underwritten, but then so is the entire effort.
Kevin M. Williams
Super Reviewer
½
I saw this one when it came out. I thought it was a decent flick, nothing to great, but not that bad. I've seen far worst comedies than this. I thought that the film had some decent comedic bits here and there, but nothing to really make it stand out. This is really a decent little comedy, one that is mildly funny. Joe Pesci is pretty good, and without him in the film, this would have been a total dud. However, this is enjoyable enough to watch at least once. As a whole, there are far better comedies out there, than this, but for the most part, this one does have a few good laughs here and there. The film had potential to being a memorable comedy, and I think it's quite a shame because the idea the film was very interesting. I think it's too bad that they didn't focus more on the quality of the jokes. The jokes are at times lacking, and don't stand out. I don't see the film as a total waste of time, more like a mindless comedic viewing experience that's quite forgettable. 8 Heads in a Duffel Bag is a decent film to watch. I found the film quite enjoyable but this is not a film I would watch again. The gags like I said could have been improved on, but some do make you chuckle. In the end it's a shame they couldn't have thought of better material to add to its interesting premise. A decent comedy that has a few decent laughs and far from bad as what many critics have said.
I don't know why some people saw this as a stupid comedy. I really love it. It's like half dark comedy and half screwball comedy. The story is good, although it's not a new one. The actors are good too, they're all very funny. I highly recommend this movie, even if no one else will.
8 Heads in a Duffel Bag Quotes
There are no approved quotes yet for this movie.