8 Million Ways To Die
(1986)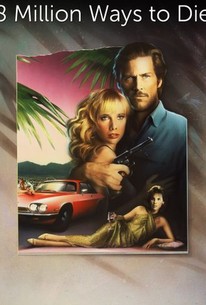 8 Million Ways To Die Photos
Movie Info
Jeff Bridges plays Matthew Scudder, an LA sheriff who loses his job due to his inability to stay away from booze. While attending an AA meeting, Scudder is invited to attend a party, where he meets the beauteous Sunny (Alexandra Paul). Also at the party is druggie Chance (Randy Brooks), an old enemy of Scudder's. It doesn't take long for Scudder to figure out that Chance is a pimp and Sunny is one of his hookers. She begs Scudder to help her break away from Chance. Not long afterward, Sunny is killed, and Scudder crawls back into the bottle. Eventually sobering up, he vows to avenge Sunny's death. Much blood is spilled before the killer is revealed; along the way, Scudder gets a new lease on life when he falls in love with ex-hooker Rosanna Arquette. ~ Hal Erickson, Rovi
Critic Reviews for 8 Million Ways To Die
Audience Reviews for 8 Million Ways To Die
½
Based on a series of detective stories from novelist Lawrence Block, "8 Million Ways to Die" is a curious little crime thriller from director Hal Ashby and writers Oliver Stone and David Lee Henry centered on alcoholic ex-cop Matt Scudder (played by utmost commitment Jeff Bridges, who never seems to be giving less than a hundred percent in his roles) as he is dragged into the sleazy underworld of drugs and prostitution. "8 Million Ways to Die" is gritty, full of coarse language and pretty entertaining, but it runs out of steam halfway through, leaving us with an unremarkable second half and an even more unremarkable finale. (The climactic shootout is an embarrassing mess of bad cuts and poor staging.) It's a real shame because the first half is so promising and Jeff Bridges is so good as his character that when the film starts heading downhill with a surplus of tired clichés, cheap dialogue and subpar filmmaking, we're left hoping that it will eventually get better, but it never does. So, what we're left with in the end is a film that had the potential for greatness, but fell disappointingly short.
Stephen Earnest
Super Reviewer
An 80s favorite of mine with a great cast with among others Jeff Bridges, Rosanna Arquette, Randy Brooks and Andy Garcia.
Magnus XXXX
Super Reviewer
I know, I know. With a cast like this, how could it go wrong? Well, trust me, it does.
Anthony Valletta
Super Reviewer
8 Million Ways To Die Quotes
There are no approved quotes yet for this movie.