8 Women (8 Femmes)
(2002)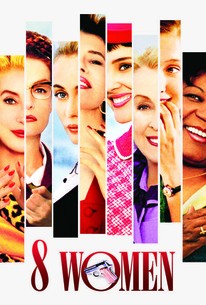 8 Women (8 Femmes) Photos
Movie Info
At an isolated mansion in the snowy countryside of 1950s France, a family is gathered for the holiday season... But there will be no celebration--their beloved patriarch has been murdered! The killer can only be one of the eight women closest to the man of the house. Was it his powerful wife? His spinster sister-in-law? His miserly mother-in-law? Maybe the insolent chambermaid or the loyal housekeeper? Could it possibly have been one of his two young daughters? A surprise visit from the victim's chic sister sends the household into a tizzy, encouraging hysterics, exacerbating rivalries, and encompassing musical interludes. Comedic situations arise with the revelations of dark family secrets. Seduction dances with betrayal. The mystery of the female psyche is revealed. There are eight women--and each is a suspect. Each has a motive. Each has a secret. Beautiful, tempestuous, intelligent, sensual, and dangerous... One of them is guilty. Which one is it?
News & Interviews for 8 Women (8 Femmes)
Critic Reviews for 8 Women (8 Femmes)
Audience Reviews for 8 Women (8 Femmes)
½
I actually really enjoyed this movie. It was strange and they kept breaking out in song for no apparent reason. It was a movie I could recommend to that guy who always came into FYE and asked for movies that take place in one place (the movie takes place entirely in a house, almost in just one room). It's definitely not a movie for everyone but if you like quirky foreign films, give it a chance.
So bad it's good. With IMDb genre tags of Musical, Comedy, and Crime, it pretty much has to be. The songs are farcical nonsense - all character songs, nothing to further the plot - and the cinematography is staid, but I'm pretty sure that's intentional. Nevertheless, it's nice to see all these beautiful legends of French cinema camping it up. Isabelle Huppert and Fanny Ardent are scrumptious. I want Emmanuelle Beart's face. Silence of the Lambs-style. Just cut it off and wear it.
Alice Shen
Super Reviewer
A bizarre and quirky French musical murder mystery. Each character reveals new plot points and has something to hide. The songs are beautifully written and well executed. The costumes and set design help to create a realistic atmosphere.
Luke Baldock
Super Reviewer
8 Women (8 Femmes) Quotes
There are no approved quotes yet for this movie.