8MM 2
(2005)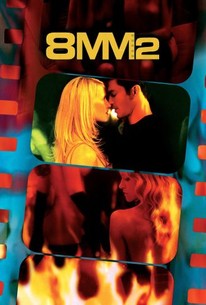 AUDIENCE SCORE
Critic Consensus: No consensus yet.
Movie Info
An extortionist threatens to derail the career of a prominent politician by revealing visual proof of his lurid sex life in this sequel to Joel Schumacher's disturbing 1999 hit. In the world of politics David Huxley (Johnathon Schaech) is on the move. A crafty political visionary with lofty goals and an eye towards the future, Huxley's only Achilles heel is the sexual obsession that drives him into some of the city's seediest sex clubs. An unnamed extortionist has captured Huxley and his fiancée Tish (Lori Heuring) in a kinky three-way with an attractive young model (Zita Görög), and the high price he puts on the photographic proof send his target reeling. When the blackmail attempt takes a dark turn and Huxley is kidnapped, his fiancée must come up with $5 million in ransom or risk losing both her future husband, and her life as well.
Critic Reviews for 8MM 2
There are no critic reviews yet for 8MM 2. Keep checking Rotten Tomatoes for updates!
Audience Reviews for 8MM 2
Having absolutely nothing to do with the original film, 8MM 2 is a dark sexual thriller that's formulaic and uninspired. The story follows an ambitious politician and his fiancee who are being blackmailed with a sex tape that was secretly made of them, so to protect their future they delve into the underworld of the pornography industry in order to recover the tape and find the blackmailers. It's a ridiculous plot that couldn't be less interesting, and the acting is pretty mundane. However, the visual style of the film is impressive and carries an air of mystery and suspense. Though the stylized directing adds a lot of intrigue, 8MM 2 is a predictable and absurd piece of trite.
Dann Michalski
Super Reviewer
This thriller sequel is getting more better than the original about the couples in Hungary risking their life on a blackmail, kidnap and murder.
Dean McKenna
Super Reviewer
½
First things first. This film has nothing to do with the first 8mm starring Nicholas Cage and I knew that before I watched this, so I wasn't expecting much. In fact, the only thing that resembles 8mm in this film is the plot deals with corruption and black mail within the porn industry. I also remember reading that the "8mm 2" wasn't even the original title. It was changed at the last second, probably to draw attention to more viewers. With that said, lets move on.
The story is really weak and the first half of the movie really drags. Drags a lot. I really felt like not finishing it. It isn't till the second half that the story starts to take off and get a little more interesting. It is still a bore fest though. I only say interesting because this is when all the nudity starts to show up. Yet, all the nudity still isn't enough to grab the viewers interest. The only decent thing about this story is the ending, which throws a pretty nice twist at you.
The acting is lame as well. There were many times when it felt like they were just reading straight off the script. The actors really didn't have much to work with though. I don't blame them. Many viewers, like myself, may have only been interested to see the sexy Zita Gorog and if anybody wants to watch this movie for her just watch the first twenty minutes to see her nude and sex scenes and then turn it off because she is pretty much done until the ending where she gets maybe a few more seconds of airtime.
Take it from me and leave this at the store and out of your DVD players. If you're lucky just borrow it from a friend, watch Zita go to work, and then give it back. This movie was on the borderline of being a soft core porn or an erotic thriller, but yet it doesn't quite make it to any of those. There are many other movies that are well worth your time, maybe even some soft core porn as well.
8MM 2 Quotes
There are no approved quotes yet for this movie.