976-EVIL
(1989)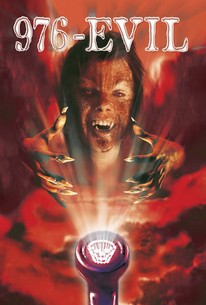 Movie Info
Robert Englund -- certainly no stranger to the horror genre after countless appearances as razor-gloved chop-o-holic Freddy Krueger in the Nightmare on Elm Street films -- makes his directorial debut with this rather blasé occult thriller, which plays like a silly male version of Carrie. Fright Night's Stephen Geoffreys stars as Hoax, a nerdy, persecuted mama's boy who stumbles across a "Horrorscope" phone hotline after discovering its uncanny ability to make his cousin Spike's wishes come true. Seeing a possible way of avenging himself on his tormentors, Hoax begins calling the number as well and soon finds himself unable to go through life without its otherworldly suggestions... until he begins to transform into an agent of the demonic forces behind the mysterious phone line. Englund's direction is serviceable, but the bland script and silly performances are beyond repair. The video version is several minutes longer than the theatrical cut; most of the additional footage appears to be no more than bland exposition.
Critic Reviews for 976-EVIL
Audience Reviews for 976-EVIL
The film really did not make any sense at all, random deaths and campy characters seemed more clumsy than scary. Robert Englund proved that he should stay far away from directing.
Sylvester Kuo
Super Reviewer
Robert Englund's 976-Evil is a terrible horror film. The film is one of those horror films that had the potential of being a good horror outing, unfortunately the film is bland, ineffective and boring. The horror elements in this film are poorly conceived, and really doesn't do anything to thrill. 976-Evil had the potential of being a great film, unfortunately despite the fact that this film was directed by Robert Englund (Freddy Krueger) this film is a total misfire. This film could have been an outstanding effort, but it proves that sometimes not even veteran horror actors can direct an effective horror flick, and there better off in front of the camera than behind it. 976-Evil is a poorly constructed horror film that though had an interesting idea, just doesn't deliver. Despite the fact that this film was directed by a horror icon, it doesn't make it worth watching, in fact it's a total waste of time and it's not a memorable horror film by any means. If the script would have been revised, maybe the film could have been good, unfortunately like I previously stated, the film misses the mark, and its content feels strained with its potential being wasted within the first twenty minutes. However if you like cheesy horror flicks, 976-Evil the perfect viewing. The film has nothing to offer fans of more serious horror outings, and you'll probably walk out of this one feeling disappointed. Overall a terrible film with a badly executed plot, bad cast and bad directing.
There is some good stuff floating around in this movie, but it's just too mediocre to be considered a classic. With Robert Englund at the directing helm and starring Stephen Geofferys, it had some potential, but it just falls flat in the end. I'd still like to see the uncut laserdisc version make a DVD release someday. Perhaps it will be slightly more enjoyable. Who knows?
Tim Salmons
Super Reviewer
976-EVIL Quotes
| | |
| --- | --- |
| Hoax: | marcus where are you |
| Hoax: | Marcus, where are you? |
| Marcus: | please don't stay away from me |
| Marcus: | Please don't stay away from me. |