99 River Street
(1953)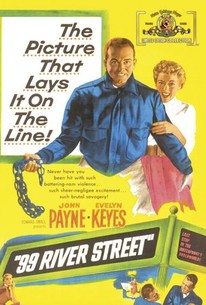 Movie Info
Ernie Driscoll (John Payne) is an ex-fighter who came within seconds of winning the world championship. He's now forced to eke out a living driving a cab. A basically decent guy, he has lots of people who care about him, including Linda James (Evelyn Keyes), a slightly ditsy actress friend -- but Ernie also has a short fuse, especially where his wife Pauline (Peggie Castle) is concerned. His rage boils over when he spots her kissing another man, but her unfaithfulness turns out to be the least of his worries. The man she's seeing, Vic Rawlins (Brad Dexter), is a career criminal with both the police and his former partners after him, and he sees Ernie as the perfect fall-guy. The law and Rawlins' criminal associates are soon closing in on Ernie, while he tries desperately -- with Linda's help -- to buy the time he needs to unravel this nightmare.
Critic Reviews for 99 River Street
Audience Reviews for 99 River Street
½
"99 River Street" isn't anything to write home about (and please forgive me for using that phrase), but it more than passes the time, which I'm sure is the reason why it was made in the first place. Of course, it's unlikely that you'll remember anything about it once it's over, but John Payne provides a formidable hero and he ventures through a plot that includes a myriad of twists; two of which really got me. "99 River Street" is forgettable but enjoyable entertainment, and that's sometimes the best kind.
Stephen Earnest
Super Reviewer
Back when drama and suspense made a movie and not sex and swearing like the American movies of today. Made in 1953 this movie stands out there as it is full of drama and suspense. A fighter is just seconds away from becoming the world champion but gets hit above the eye in a fight and with that his dreams and fight days are over, his wife finds another man and his troubles begin. He's just a cap driver now and she wants more, so she helps a thug steal some diamonds and that too goes wrong, Movie is full of suspense and has a full cast of fifties stars who made a lot of different TV series appearances. A Old B&W that gets 4 stars
Bruce Bruce
Super Reviewer
a terrific overlooked noir, likely the best film of director phil karlson's career. john payne plays a washed up fighter who's constantly reliving his lost shot at the title, struggling as a cabdriver with a dissatisfied wife. what is it with boxers and noir? needless to say, he gets mixed up in a dangerous game, giving him one last shot at redemption. i don't wanna give too much away. everyone is great here, especially evelyn keyes as a standup dame trying to help him out of the jam. check it out
Stella Dallas
Super Reviewer
99 River Street Quotes
There are no approved quotes yet for this movie.