9 1/2 Weeks
(1986)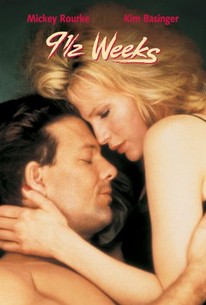 Movie Info
The title refers to the duration of the relationship between self-absorbed Wall Street shark Mickey Rourke and divorced art gallery owner Kim Basinger. Kim is looking for true love, while Mickey is searching for...gosh knows what. His notions of lovemaking include blindfolds, ice cubes, chocolate syrup, and rolling around on spent peanut shells. When the alotted 9 1/2 weeks are up, Kim has finally come to realize that Rourke has been using her. We could have told her that twenty minutes into the film. One of the definitive works in the Mickey Rourke ouevre, 9 1/2 Weeks is deliciously awful, and as such will probably endure as a Camp Classic for the next hundred years. The film is available in both R-rated and unrated versions; either way, it's a hoot. ~ Hal Erickson, Rovi
News & Interviews for 9 1/2 Weeks
Critic Reviews for 9 1/2 Weeks
Audience Reviews for 9 1/2 Weeks
A Wall Street tycoon engages an art dealer in three months of sexual gamesmanship. I write this as straight as I can: "Damn, Mickey Rourke was hot." (Notice the lack of an exclamation point; it wouldn't be straight with an exclamation point.) His smoldering glances, his soft demands, and even his plaintive "I love you" make him irresistible, and because of his energy, we can sympathize more with Elizabeth who finds herself enmeshed in John's world. I have a friend who argues that Bella from the Twilight films is a strong heroine because it takes strength to surrender. Though I disagree with my friend, her theory stayed in my head throughout 9 1/2 Weeks. Is Elizabeth a strong character? I think so, and I think my friend's theory has more applicability here than it does in Twilight. More to the point, Elizabeth represents a change in feminists in film as she serves her own sexual gratification at the same time she gratifies. I didn't think the subplot involving Elizabeth's ex-husband was well-developed, and what was the point of the violent alleyway mugging? Also, the film takes on a repetitive quality as it alternates between scenes with John and Elizabeth and scenes with Elizabeth's head rolled back in her work chair, thinking about John; it's a pattern that quickly becomes tiring. Overall, this is an interesting film within the context of feminist film theory, and it comes from Adrian Lyne, who is a master of the sensual and sexual.
Jim Hunter
Super Reviewer
*Gag. *gag. It's very hard to get through this film without the previous abhorrence and actions. Supposedly an erotic "drama", I've seen bowel movements more dramatic than this excuse for soft core porn on the screen. A young Basinger and even younger Rourke headline this catastrophe as intelligent and highly paid individuals who fall in love and have sex all over the city. Rourke has the personality of a pen, often creepily smiling while administering whatever form of S&M on Basinger, which is apparently supposed to fuel the film, but just titillates some messed up people, and makes me, as previously stated, gag. Plagued by an eighties soundtrack, a pithy script, and a series of scenes that either don't make sense, or annoy to the point of self-hatred for sitting down and watching it, 9 1/2 makes for an uncomfortable and often difficult view. Good for a gander into the Rourke of the eighties, in order to compare next to the steroids mess of the present, but otherwise, repress this like it were childhood trauma.
Spencer S.
Super Reviewer
½
Superficial and self-indulgent titillation. It seems ironic to say that Adrian Lyne's characters aren't 'fleshed-out' because flesh is all they really are. The entire film is an artsy facade, an effigy to 80's materialism that's devoid of meaning or substance.
Randy Tippy
Super Reviewer
9 1/2 Weeks Quotes
| | |
| --- | --- |
| Molly: | [thinking out loud for the viewers] Just no. I should have said no. No, no, no. I should have said no. And I would have if I could have, but I couldn't, sp I didn't. |
| Molly: | Just no. I should have said no. No, no, no. I should have said no. And I would have if I could have, but I couldn't, so I didn't. |