A Bag of Hammers
(2012)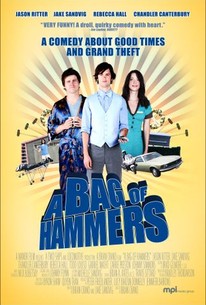 Movie Info
A Bag of Hammers revolves around the friendship of two charming grifters, Ben and Alan, played by Jason Ritter and Jake Sandvig. Ben and Alan have built a successful though larcenous business, posing as car valets, only to steal the vehicles instead of parking them. Because of their less-than-ideal childhoods and a "job" that allows them to remain likeable boyish rogues well into their 20's, their penchant for crime is almost forgivable. However, everything changes when they meet a twelve-year-old boy named Kelsey. Neglected by his mother, Kelsey is drawn to Ben and Alan and they to him--eventually, Kelsey becomes part mascot, part protege. His presence ultimately forces Alan and Ben to choose between a life of crime and fun (an extended childhood) and the opportunity to grow up and deal with the emotional consequences that come with it. -- (C) Official Site
News & Interviews for A Bag of Hammers
Critic Reviews for A Bag of Hammers
Audience Reviews for A Bag of Hammers
This movie definitely has some very good intentions at the core of its narrative, but the film becomes problematic when it tries to combine indie quirk with super serious drama. It's almost jarring to see how serious the film can really get and, again, at least in this case, it doesn't really mix well with the quirky approach to its comedy. The drama doesn't really feel natural or organic. It doesn't feel like a natural progression of the story. The characters and actors are certainly likable enough that they make these jarring tonal shifts a little easier to digest, but that would easily be the film's biggest fault. With that said, I did find the story to be very sweet. Almost to a fault really. But the story of these two grifters, whose choice of "employment" has led to them refusing to grow up, being forced to mature when Kelsey comes into their lives unexpectedly. It's definitely a good enough arc for these two characters. The stuff with Kelsey, while some of it is very sweet, also feels a little manipulative. Since the movie is so short, you don't really get to see how Alan and Ben's relationship with Kelsey develops. It's like they give you just enough, but not enough to see how much of an impact these two had on this kid's life. After officially adopting Kelsey, after he spends 11 months bouncing from foster home to foster home thanks to Ben's sister, the film flashes forward several years to when Kelsey is getting ready to go off to college. Granted they do show you part of how they raised him in the post-credits sequence, but not enough to make it really emotionally satisfying. Again, it's very sweet but at the same time it's very manipulative. I almost hate to complain about this movie, because it's clear that its heart is in the very right place and it's a good movie, but I think that the film's dramatic aspects could've been handled far more maturely than they were. Still, it's a solid movie with a solid script and a great cast, so at least it's a good movie in spite of its faults.
Jesse Ortega
Super Reviewer
½
In "A Bag of Hammers," Ben(Jason Ritter) and Alan(Jake Sandvig, who also co-wrote with director Brian Crano) are a couple of con men who specialize in stealing cars from cemeteries. They figure that has to be better than the gig Melanie(Rebecca Hall), Alan's sister, has as a waitress in a waffle house. There is also Ben and Alan's sideline interest in real estate where they rent a house to Lynette(Carrie Preston) who can barely make ends meet or take care of her son Kelsey(Chandler Canterbury). With a very good cast(Gabriel Macht is around here somewhere) and a refreshingly positive take on irresponsibility, "A Bag of Hammers" still cannot overcome its awkward blend of quirky and realism. First, if you are going to have quirky thieves, you need to have them steal quirky things. By comparison, no matter their modus operandi or how much they do not want to admit it to themselves, Ben and Alan are in the big leagues by stealing cars. On the other side, as the only places she apparently looks for work is from temp agencies, Lynette is badly underwritten, which cannot be improved upon no matter how much life Carrie Preston may try to futilely breathe into her. And without much in the way of a plausible story, that's pretty much it, except for one nice long shot of bad news being delivered.
While starting out as one of those "quirky" comedies, the film really isn't a comedy at all, though it does attempt to retain the quirkiness. Of course it didn't help that several later scenes that I believe were supposed to be funny were truly reaching; to the point of almost being offensive (as when one of the two grifters has to go at it alone and is reduced to being tempted to rob little old ladies of their purses). I feel that the back story - that of abused childhood (hence the title) had enough heft to be the sole theme of this film and that the comic elements could have been left out entirely (or at least the more overt ones). The script, when it focuses on the back story, is adequate; as is the acting of Jason Ritter and Jake Sandvig as the two grifters - they are loose enough in that slacker kind of way, and able to carry the wood when the film reveals the pained underside. Precocious kiddy number 9000 is aptly performed by Chandler Canterbury (there's a stage name if I've ever seen one), who manages to make me feel sorry for him as all he wants is someone to care about him (it's obvious that his mother does not). That at least one of the grifters does care is the major turning point of the plot and what gives this film a marginal passing grade - that and the ability to remain in costume; keeping the laissez faire slacker mentality and air of light joviality in spite of the dark underpinnings. I was drawn to this film because the daughter of a friend worked on the costumes (which are lowbrow LA kitch and so normal you don't notice that they are costumes at all). Normally, just by the title alone, I would have steered clear, and really the title is unfortunate as this could easily be dismissed as a screwball comedy - it's not, and while certainly not a great film, I was pleasantly surprised by the dramatic element. At least the film knew that it was straddling a precarious fence, as during the closing credits it includes a scene where one of the grifters is seen in a hardware store looking at hammers. In the next scene as the 3 main characters are throwing hammers at bottles, one turns to the other and says "you know that this is a pretty obvious metaphor, right?" To which the other replies, "Yeah, but it makes a nice visual". That just about sums up the tone of the film.
paul sandberg
Super Reviewer
A Bag of Hammers Quotes
| | |
| --- | --- |
| Ben: | Tea is civilizing. People drink it in centers of learning. |
| | |
| --- | --- |
| Ben: | We all get a bag go hammers, whether it's being poor or catching cancer, divorce or losing your brother, or losing your mother. You know what I mean, Kelsey. It's what you do with these hammers. |
| | |
| --- | --- |
| Alan: | Stay in school. Don't drink and drive. Just say no. |
| | |
| --- | --- |
| Alan: | You speak in Michael Bolton lyrics. |
| Amanda: | Fuck you, Alan and you have a little dick. |