A Beginner's Guide To Endings
(2010)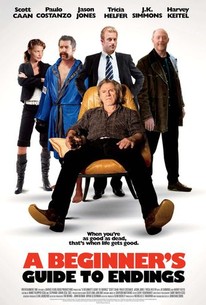 A Beginner's Guide To Endings Photos
Movie Info
The three sons of a reckless, recently-deceased gambler make a shocking discovery that causes them to reassess their lives as they race to make the most of the precious little time they have left. A hard living father of five, Duke White (Harvey Keitel) had a bad habit of gambling away every penny that came his way. Now Duke is dead, and he's got one last surprise for his three oldest sons: years ago, Duke signed up Cal, Jacob, and Nuts for a series of drug tests that drastically reduced their life expectancies. Upon learning that his time on Earth is quickly running out, Cal (Scott Caan) goes after Miranda (Tricia Helfer), the one girl he always regretted letting slip through his fingers. Former boxer Nuts (Jason Jones), meanwhile, decides to step back into the ring to prove that he can still deliver a crowd-pleasing punch. And then there's Jacob (Paulo Costanzo), the son who stopped taking risks after settling into a comfortable career. Now, with his youngest brother Todd (Siam Yu) by his side, Jacob is going to throw caution to the wind, and do all of the things he was too afraid to do before he knew that his days were numbered.
Critic Reviews for A Beginner's Guide To Endings
Audience Reviews for A Beginner's Guide To Endings
½
A Beginner's Guide to Endings is too quirky for its own good, with no real sense of a story or narrative to sustain itself, even if on a very thin comedic level. It simply feels like a series of sketches with haphazard plotlines. The performances range from good (Keitel) to tonally all-over-the-map, and are never inherently funny in-and-of themselves. The humor is generally miss, ranging from slapstick to dark, but without really compelling characters and situations to pull it off. 2.5/5 Stars
Jeffrey Meyers
Super Reviewer
½
Unfocused comedy about 3 brothers who, after the death of their father, learn they may only have a few days left to live, and set out to live life to the fullest in their final hours. Awkward mix of comedy and drama never strikes an even tone. A few fine comedic moments in the script are also hampered by uneven direction.
Matthew Lucas
Super Reviewer
A Beginner's Guide To Endings Quotes
There are no approved quotes yet for this movie.