A Bigger Splash
(2016)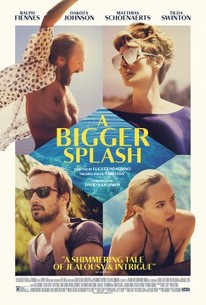 TOMATOMETER
AUDIENCE SCORE
Critic Consensus: Absorbing, visually arresting, and powerfully acted by an immensely talented cast, A Bigger Splash offers sumptuously soapy delights for fans of psychological adult drama.
Movie Info
In A BIGGER SPLASH, rock legend Marianne Lane (Tilda Swinton) is recuperating on the volcanic island of Pantelleria with her partner Paul (Matthias Schoenaerts) when iconoclast record producer and old flame Harry (Ralph Fiennes) unexpectedly arrives with his daughter Penelope (Dakota Johnson) and interrupts their holiday, bringing with him an A-bomb blast of nostalgia from which there can be no rescue. A BIGGER SPLASH is a sensuous portrait of desire, jealousy and rock and roll, under the Mediterranean sun.
News & Interviews for A Bigger Splash
Critic Reviews for A Bigger Splash
Audience Reviews for A Bigger Splash
½
A quartet of stunning, note-perfect performances elevate this wonderfully odd, unpredictable drama.
Daniel Parsons
Super Reviewer
CANNONBALL - My Review of A BIGGER SPLASH (2 Stars) Ugh! The trailer for the remake of the 1969 French crime drama, LA PISCINE, promised sun-dappled Italian Villa nudity with a quartet of stars guaranteed to arouse folks of any persuasion. Sign me up, right? What director Luca Guadagnino (I AM LOVE) and writer David Kajganich (TRUE STORY, THE INVASION) deliver instead, while pretty and well-acted, is an interminable, predictable slog with some terrific moments here and there. Swinton plays Marianne Lane, a rock star recovering from vocal surgery on vacation with her documentary filmmaker boyfriend Paul (Matthias Schoenaerts). Their quiet idyll gets interrupted when Marianne's old flame and record producer, Harry (Ralph Fiennes), descends upon their village with the nubile, Lolita-esque daughter he never knew (Dakota Johnson) in tow. With the sun blazing and a seasonal wind kicking up, it won't be long before everyone strips down and passions ignite in every direction. Add alcohol and drugs and you know this isn't going to end well. Unfortunately, what could have been a bodice-ripping, sweaty good time descends into poolside ennui and a tone more reminiscent of a terrible Henry Jaglom film than the Euro-skinflick intended. Swinton, in a nearly silent performance, digs deep into her role, showing the complications of a woman at war with advancing age and the attention of two important men in her life. In an odd, too-precious development, Swinton apparently had the filmmakers add the vocal limitations to the script because she apparently had nothing she wanted to say. Luckily, what sounds like a "crazy actor" demand makes a lot of sense for this story, especially when Ralph Fiennes' performance is so aggressive. Deliriously chewing the scenery, Fiennes, perhaps from years of more formal roles, cuts loose as a music producer with a Rolling Stones tale for every occasion. In the funniest sequence, Fiennes crazily dances and sings along to "Emotional Rescue" resembling one of those inflatable car wash airdancers. Clearly he sees Paul as competition for Marianne's affections, so his overcompensating, manic energy makes sense. With this and THE GRAND BUDAPEST HOTEL, Fiennes has really embraced his comedic skills, and it's a change I welcome. Johnson, for her part, exudes more raw sexuality and attitude in any given moment than she did in the supposedly combustible 50 SHADES OF GREY. The underwritten part, however, gives her little more to do than pout and seduce men by pulling down her sunglasses just so. She reminds me so much of her famous mother here when she broke out in the 1975 film NIGHT MOVES with Gene Hackman. Hopefully Johnson will get her WORKING GIRL moment too. Wait a minute, why hasn't some studio hack decided to reboot that film with Johnson in the lead? Oh wait, I know, because MARVEL or D.C. COMICS don't have a stake in it. But I digress. While I appreciate that this brand of European arthouse film got made in this day and age, I wish it were either shorter or had a little more meat on its bones. With sexually fluid characters such as these, you'd think things would develop into more experimental territory than a quick, up-the-skirt-how-do-you-do. By the time of the defining event of the 2nd act, I thought to myself, "Finally!" What follows is a listless investigation leading to an ambiguous, somewhat undercooked ending. Go for the performances, the lush cinematography by Yorick Le Saux, and the smoldering glances, but you may want to drink a LOT of coffee beforehand.
Glenn Gaylord
Super Reviewer
½
This movie oozes sex, from the sandy feet that sensually slide into beach sandals, to Tilda licking her fingers as if she was doing something naughty, to camera shots of teenage milk-white hips under low-hanging terry-cloth shorts. It was dripping in sex so much it was gross. Good cinematography. I can't say I was bored, but I can say I was confused. I had little idea of what was going on half the time, perhaps because I couldn't understand half the dialogue, unless Italian was spoken with subtitles. Every character was extremely weird, from finger-licking deadpan-eyed Tilda, to over-excitable Ralph who seemed to inhale a gallon of cocaine every hour, to sex-oozing Dakota. The only seemingly normal person was the murderer. I suppose it's in style now for critics to rave about confusing sex-saturated weird movies. They call it art. Especially if it takes place in an Italian villa.
A Bigger Splash Quotes
There are no approved quotes yet for this movie.