A Cat in the Brain (Un gatto nel cervello) (Nightmare Concert)
(1990)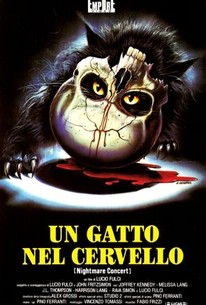 AUDIENCE SCORE
Critic Consensus: No consensus yet.
A Cat in the Brain (Un gatto nel cervello) (Nightmare Concert) Photos
Movie Info
In this Italian splatter film, director Lucio Fulci plays a horror filmmaker who goes to a psychiatrist because the types of films he makes are starting to disturb him, he suspects that his German producers are Nazis, and he believes he may be a killer himself. Much of the movie consists of clips from Fulci's previous films. ~ Brian Gusse, Rovi
Critic Reviews for A Cat in the Brain (Un gatto nel cervello) (Nightmare Concert)
Audience Reviews for A Cat in the Brain (Un gatto nel cervello) (Nightmare Concert)
½
Lucio Fulci's Cat in the Brain is an inventive and somewhat egotistical tale of a director's decent into madness. The director in question is Fulci himself, who stars in the film. Fulci has become known to horror fans everywhere as 'the godfather of gore', and for good reason, as he has provided us with some of the nastiest and most gruesome films ever to grace the silver screen; from the eyeball violence in films like 'Zombi 2', to a man been hacked to death with chains in 'The Beyond', all the way to the full on gore fest known as 'The New York Ripper'; if you want gore (and let's face it, who doesn't), Fulci is your man. However, all this catering for gorehounds like you and I has taken its toll on Fulci's mental state, and he's quickly delving into madness, brought about by what he films. Fulci's problems don't end at his mental state either, as his psychiatrist that he has gone to see about his problem has took it upon himself to take up murder as a hobby, using Fulci's films as blueprints for the murders! I've got to say, the acting in this film is absolutely atrocious. There is one scene in particular that involves a hooker, and it's only fit to be laughed at, for both it's acting and it's stupidity. Fulci takes the lead role of the film (obviously). He's not an actor, and it shows, but his performance is actually the best in the film. It's even safe to say that one the whole, the acting is bad for an Italian horror film. Of course, nobody goes into an Italian horror expecting good acting, so it's somewhat forgivable, but I do think that Fulci could have hired some better ones. Bad dubbing doesn't exactly help either. However, something that does help is the fact that the terrible acting is counterbalanced by lots of gore, and it's extreme to say the least! People get their heads cut off, a woman is slain in the shower (and unlike Psycho, here we REALLY see it), people are hacked up, fed to pigs and there's lots and lots of cinema's finest melee weapon - the chainsaw on display, which delighted me no end. The amount of gore is massively over the top a lot of the time, which gives the film something of a 'spoof' feel, but Cat in the Brain is obviously a tongue in cheek film anyway. It would be hard to make a film about yourself and not come across as being a bit of a big head, and Fulci does indeed come across as a bit of a big head in this movie. His name is mentioned often, and he's on screen nearly all the time; it's not too much unlike 'New Nightmare' in the ego stakes, but it's obvious he had a good time making this, and I for one had fun watching it, so we can forgive him a little egotism. The film's ending lets it down - I saw it coming a mile off, but then didn't seriously think that the movie would take that route, but I was wrong; it did, unfortunately. The ending left me cold, and the film is a better watch if you turn it off just before the final two minutes. However, despite it's ending and terrible acting, Cat in the Brain is a lot of fun and will please Fulci enthusiasts no end, and it is therefore recommended.
Cassandra Maples
Super Reviewer
Delve into the mind of Lucio Fulci in this humourous self parody of the "father of gore" himself. It plays out like a giallo but this is not a film to be taken too seriously - this is all a bit of satire from from the director poking fun at his critics and his own career. It's the goriest Fulci film I've ever seen with a whole plathora of brutally gory killings from chainsaw dismemberments, knife stabbings, beheadings, a disembowlment etc. Fulci fans will love it!
There's tons of juicy disgusting gore packed into this movie; gore-hounds should applaud. However, the story is lame and incomprehensible, making it hard to sit through. Some scenes were laughable. I admired how Fulci intercut new footage with scenes from other movies -- and am glad I haven't seen those other films, or the continuity would've been ruined. I wish the gnawing cat had burst out of Fulci's head in the final scene, rather than the lame Hollywood ending they chose.
Lafe Fredbjornson
Super Reviewer
A Cat in the Brain (Un gatto nel cervello) (Nightmare Concert) Quotes
There are no approved quotes yet for this movie.