A Christmas Story 2
(2012)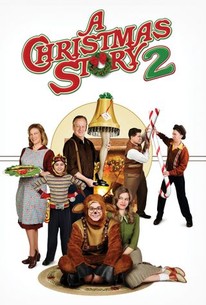 AUDIENCE SCORE
Critic Consensus: No consensus yet.
A Christmas Story 2 Photos
Movie Info
The original, traditional, one-hundred-percent, red-blooded, two-fisted, All-American Christmas continues five years later with Ralphie, Randy, mom and the Old Man. When 15 year-old Ralphie accidentally wrecks his dream car before even getting it off the lot, he and his friends Flick and Schwartz band together to raise the money to fix it by Christmas Eve - before the car dealer tells the Old Man. They all get their (first!) jobs, but run into trouble at every turn. When things look most bleak, Ralphie finds the true meaning of Christmas with the help of his family and his friends.
Critic Reviews for A Christmas Story 2
All Critics (3) | Fresh (0) | Rotten (3)
A mean, angry, assaultive and annoying series of nostalgic callbacks and nasty characters.
Silly jokes abound but it's no original Christmas Story.
Shamelessly derivative and plasticized, A Christmas Story 2 will only have you wondering why you're not watching the original picture again.
Audience Reviews for A Christmas Story 2
½
Garbage from beginning to end, A Christmas Story 2 is a bastardization of a classic. Once again it's Christmas time for the Parker family; after getting into a joyriding accident at a used car dealership Ralphie has to get a department store job in order to pay for the damages, meanwhile Ralphie's father ice fishes for an inexpensive Christmas dinner. What makes this sequel so bad is how artificial and contrived it is. The acting and sets seem incredibly fake, and there's no sincerity to the story. A Christmas Story 2 is a shallow and vapid film that insults the fans of the original.
Dann Michalski
Super Reviewer
Nearly everybody who seen A Christmas Story has fallen in love with that holiday classic, expect I chosen to see the sequel instead. For some reason Hollywood decided to make an unnecessary sequel to a movie that did not need one. Also, seeing that no one is paying attention to it is the exact reason I've chose to watch it and it wasn't as bad I expect it to be. A Christmas Story 2 follows a teenage Ralphie who must repay a car sales man for damaging his car, with the occasional uninteresting subplots like Ralphie father catching a fish for Christmas dinner. First of all, the movie does have some sweet moment that did put a smile on my face. It's also allot more watchable than one would expect from a straight to DVD effort. Unfortunately this sequel still can't compare to the original. It recycled classic gags from the original that don't work in this sequel. The jokes don't work because the teenagers act like kids; when a kid sticks his tongue on a icy pole it's funny, but when a teenager does a similar gag you just think the character is stupid. Another complain would be the fantasy sequences tend to have no context with what's happening in the story. It also does not help that Ralphie has a love interest who has around four minutes of screen time at most in the entire film and serves almost no point to the story. The characters you loved are now cartoons and forgettable. The cast do a decent job in their roles, but unfortunately they will be judge harshly if fans the classic view this. One main reason being the writing gives nothing new about these characters and makes them even more generic even hateful at times. As a whole though, the sequel is harmless and it wasn't a chore to sit through. You could tell the cast and crew put some effort into this film, but it didn't come out as good they expected it coming out as a low budget imitation of the original. A Christmas Story 2 has it moments, but it recycles jokes and plot that gives us nothing new. Despite some good efforts from it crew this is a sequel that can't match the much loved original. Fans of the original might rip it to shred, although seeing how Hollywood has a track record for making horrible sequels to beloved classics this could have been allot worst.
Caesar Mendez
Super Reviewer
A Christmas Story 2 Quotes
There are no approved quotes yet for this movie.