A Cry from Within
(2014)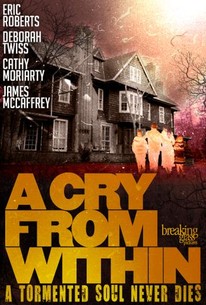 AUDIENCE SCORE
Critic Consensus: No consensus yet.
Movie Info
This release tells the haunting tale of a man (Eric Roberts) and his wife (Deborah Twiss) who relocate with their two children from the bustling city to the peaceful country following a miscarriage. Soon after settling in at their rental home on Long Island the children experience terrifying phenomena that they believe are caused by the spirit of a young boy.
Critic Reviews for A Cry from Within
There are no critic reviews yet for A Cry from Within. Keep checking Rotten Tomatoes for updates!
Audience Reviews for A Cry from Within
You know, for the most part, I was like 'you know what, this really isn't that bad of a movie.' Sure it may have had a minuscule budget and Eric Roberts, which is never a good sign for the overall quality of a flick. More the latter than the former, of course, as evidenced by I Am A Ghost. Let's just say that Eric hasn't had the best of careers when it comes to choosing quality scripts. I figure that, at this point, he's really just still working because he needs the paycheck, so he signs on to anything that gets thrown his way. As evidence of this, in 2014, he appeared in 52 movies. You read that right. FIFTY-TWO movies. Only six of those movies actually have Wikipedia pages. That should tell you something about the quality, or lack thereof, of a lot of his work. So, yea, once I saw that he was in this film, I set my expectations lower than they were even before watching this. I have to be realistic sometimes, so I never get too excited about these films that I literally have never heard about. And, all things considered, for about 80 minutes, while this film did nothing for me, it was all perfectly fine. Just a basic ghost story, some decent acting, particularly from Cathy Moriarty. There was nothing too offensive about this film in the slightest. This family rents this house where this woman has taken care of her ailing mother for over 40 years. This woman, Alice, and her mother had some dark history in their past that has clearly left a lot of negative energy, if you will, stored up inside the house. Alice believes that it's just something that she senses, but the family moves in and starts experiencing strange things. The wife gets a renewed lust for her husband and their daughter starts to behave strangely. Again, it's just basic stuff, but it doesn't hurt. The mystery comes in trying to figure out what exactly happened 40 years ago to Alice and Sophia. Essentially, Sophia had a child out of an affair and she wanted to kill the baby, because she felt that he was the devil's spawn. Alice didn't let her and she managed to raise the boy on her own for a couple of years before Sophia finally got her way and she managed to kill Sebastian. Which is why he's haunting this house. This is when things get terrible. Once Cecile, the matriarch of the new family living in the house, finds out what happens, she goes back to the house and things get ridiculous. She goes inside and she starts crying out to the ghost boy, telling him that she knows what happened to him. 'You poor, poor baby!' she cries out before kneeling on the floor to cry some more. She cries out an apology to Sebastian, saying 'you poor baby' one more time. Then she says 'I feel you' as Sebastian's spirit gets closer to her. She smiles a bit, still with tears running down her cheek. She then faints. Her family then arrives from school and they help her up and she informs them that Sebastian needs help in a cheesy manner. Cecile's husband goes to Alice's place one they find out Sophia has died. This leaves Cecile and her two children in the house. Then the ghost slams doors and starts waving blinds back and forth and other ghostly shit. Cecile and the kids run away scared in the phoniest way possible. A priest, who was actually Sebastian's father (he didn't know) arrives at the house to try and help. The priest is then thrown to the floor by the ghost while Cecile and the kids keep screaming. She melodramatically screams out as to what is happening. What does Sebastian want from them? Cecile begs Sebastian to tell her what she can do. Doing so very dramatically. Then they're shown a flashback, somehow, of the horrible existence that Sebastian led. He starved to death and her mother burned his body in the furnace. Now the priest is crying too, apparently seeing this vision, along with Cecile. The priest begs for forgiveness in a dramatic fashion as well. Cecile cries out to Sebastian saying, and I quote, 'you poor, sweet soul'. Ariel, Cecile's daughter, asks her what she was saying. Cecile then says that all Sebastian wanted was for somebody to love him. That is almost an exact quote and it's as bad as it fucking sounds, what with the melodramatic acting in display. Cecile then states that they have to stay in the house, they had pondered leaving, and that 'I can love you, little guy, I can'. She really actually said this. I almost died laughing. Then Jon and Alice finally arrived home and Alice kneels down to comfort the priest and then she starts crying. Then the priest asks Alice if anyone loved Sebastian. Alice says that she did and that she lived her entire life with a broken heart. Then they can all feel Sebastian's spirit leaving the house, finally having known that someone loved him. And that's the end of it all. The movie still goes on for several minutes, but the bleeding is stopped. I felt like I had to recap it all, because it was all just so fucking terrible. I had to do a play-by-play, essentially, just because I don't think I could have summarized it all two sentence. It would have been impossible to get it all out in two sentences. The last ten minutes or so of the movie completely destroy it and I really do mean that. This was a below average movie prior to the 10 minutes. The last act really undid everything and, realistically speaking, made this a terrible movie. That's how shit the last ten minutes are, that it actually cut the rating in half. I was settling in at two stars during the first 80 minutes of the film. Everything after that point just sucked an insane amount of dick. I really don't think I can do the last act justice. You'd have to see it to believe it. It was really fucking terrible. It was nauseatingly melodramatic and poorly written too. Oh my god, the dialogue is just the worst. Just the dirt fucking worst. Please don't watch this at all. The first 80 minutes offer absolutely nothing special, just your basic dull and lifeless ghost story. The last ten minutes of this movie are the worst movie I've seen in all of 2016. Please don't watch this, at all. Hated this fucking movie.
Jesse Ortega
Super Reviewer
A Cry from Within Quotes
There are no approved quotes yet for this movie.