A Dangerous Life
(1989)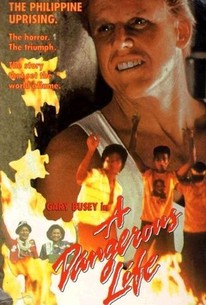 AUDIENCE SCORE
Critic Consensus: No consensus yet.
Movie Info
Dangerous Life originated as a six-hour HBO miniseries about the 1986 Philippine revolution. Gary Busey stars as an American TV journalist, on the scene when the tempestuous situation in Manila boils over. He puts his own life on the line to get the inside story of the overthrow of the Marcos regime. By its very nature, most of the film had to be shot everywhere but the Philippines. Since its original 1988 HBO run, A Dangerous Life has been edited down to a 162-minute TV movie.
Critic Reviews for A Dangerous Life
There are no critic reviews yet for A Dangerous Life. Keep checking Rotten Tomatoes for updates!
Audience Reviews for A Dangerous Life
(A reaction paper/analysis for my 'Communication and Society' course) First of all, It's just quite funny to think that a film that ultimately tackles one of our nation's core achievements as a collective whole (the EDSA People Power Revolution, that is) was made by a foreign production company, anchored by a foreign director and scripted with a foreign language. But aside from that, this epic, though terribly dated film "A Dangerous Life" still captured all the haywire tensions that has led to the famous revolt and the momentary euphoria that came with its conclusion. Headlined by an impressive cast of Filipino character actors with the likes of Ruben Rustia, Joonee Gamboa and Ray Ventura to name a few that although squeezed themselves into the film with stagy rhetorical intents and over-dramatization, have executed their roles with considerable marks of their own. Tessie Tomas, on the other hand, is very good in conveying the superficiality and materialism of Imelda Marcos, though I must admit that she is quite difficult to watch as a straight-faced Mrs. Marcos in the initial scenes without second-thinking that she might burst into some comic skits (after all, she really is more well-known as a comic actress). Now, for the perspective of the film, mainstream filmmaking has, time and time again, repeatedly used an 'outsider looking in' point of view in recreating historical events. Great examples are Roland Joffe's "The Killing Fields'' (which I thought was quite effective in combining both a journalist and a Cambodian native's viewpoint) and the masterful "The Last King of Scotland", a film that has tackled the horrors of Idi Amin Dada's brutal regime in Uganda seen through the eyes of a Scottish doctor. "A Dangerous Life" isn't very different, either. Tony O'Neil, a reporter played by Gary Busey, is sent to cover the escalating political trepidation in the Philippines mainly ignited by Ninoy Aquino's assassination. This is a very conventional yet very wise move for the screenwriter to filter all these events leading into the People Power through an American's vantage point. Busey's character instantly served as the audience's guide into the whole scenario without them (for director Robert Markowitz and screenwriter David Williamson) investing much time experimenting with other native Filipino characters whose sensibilities may be deemed too alienating for the general viewers (which are from western countries, I believe). Then there's the O'Neil character's love story arc between a fellow journalist named Angie (played by Rebecca Gilling) and a misguided radical (played by Dina Bonnevie, whose physical stature is awkwardly unfit to be Busey's love interest). From these, the creators just got wiser. Putting a foreign onlooker into an isolated national dilemma (the waning yet increasingly desperate days of the Marcos regime), that is good. But placing that foreign onlooker in a love story with a native Filipino character that is emotionally and physically involved in the whole scenario? Better. It instantly puts Gary Busey's character in a quick emotional attachment with all the transpiring events that is connected with Dina Bonnevie's character's heart and soul as a Filipino, and it even makes his character more compelling and, dare I say, more heroic to watch. This is the meager comforts of first-world filmmaking, and with just a few scenes of the Tony O'Neil character frantically picking up phones and turning off bad news-infested televisions, we got ourselves a brave and concerned foreign journalist. Obviously, the key moments in "A Dangerous Life" in terms of how 'Mass Media' influences and molds society is when Jaime Cardinal Sin called for all Filipinos listening to him through 'radio' to stand up and march onto the streets to help fend off the armed forces surrounding Camp Crame and Camp Aguinaldo; places where Defense Minister Enrile and AFP chief-of-staff Eddie Ramos held their mutiny. Through the curious and significant use of the said medium of mass communication and Sin's pleading voice delivered by the transmitting devices, this combination has achieved two things: the alignment and awakening of Filipinos' sense of oneness through a common goal (as voiced out by the Cardinal) and a declaration of mass media's sheer power as a communicative whole. And then vice-versa (how society has influenced Mass Media), the film has shown this through its exposition of reforming and renaming the Marcos-attacked "Radio Veritas" into "Radyo Bandido". Because there is an increasing demand for necessary updates and information about the events that are happening during the time, the radio medium has able to anticipate and out-think the bullying perpetrators that has destroyed the radio station's first incarnation and rebuilt it through a hidden transmitting device and continued its feed of news to both the mere listeners and the revolutionary participants. Simply speaking, it has able to adjust to the countless calls for truth by a contemporary Filipino society seeking for change and reform. Those are the moments that has fully shown this 'Mass Media and Society' interaction, but there's this fascinating exchange between Jaime Fabregas' character Ben Balamo and Gary Busey's Tony O'Neil. "Your country is like a gangster movie", said by O'Neil in frustration and anger. But Balamo, arguably my favorite character in the film, has answered back with something like this: "But remember, the Philippines had 400 years of Spanish Catholicism and 50 years of Hollywood". That line alone that is both comedic in its delivery and satiric in its underlying anti-colonialist tone, also tells of the overwhelming influence of mass media in a country's societal stream. Because of being exposed in a milieu where foreign clutches and western cultural imports control and condition the minds of third-world countries like the Philippines, this Jaime Fabregas-uttered line is a few-worded answer to the things that western powers (in this film's case, America, represented by Gary Busey's O'Neil) are repeatedly and hypocritically complaining to us regarding our country's numerous shortcomings in moral fiber and culture of corruption; in many ways, it is from them that we have inherited these. "A Dangerous Life", despite of its illogical use of Sri Lankan extras in the climactic crowd scenes (It's sad how no one in the crew is even aware how different Sri Lankans and Filipinos look), a one-dimensional portrayal of Corazon Aquino (by Laurice Guillen) and an unnecessary fictitious character 'Tiger' Tecson played by Roy Alvarez (who I think should have played Gringo Honasan based on physical likeness), is still packed with some hints of thematic depth and solid commentaries about the limitations of power and the futility of political alliances. But in the end, although how good the director handled the scenes leading into the historical conclusion that is the Corazon Aquino era, I just can't feel the sense of victory in the end. Yes, maybe it is the inadequately indifferent extras, but maybe it's also that penetratingly romantic eye contact and reconciliation of sorts between Tony O'Neil and Angie. So, after all, is this film just another one of those 'love caught in a tide of political turmoil'-themed films ala Doctor Zhivago and many others? I hope it's not the intent. But if it is, then it really is a shame. "A Dangerous Life" is an obviously labored recreation of a defining time in our history where we have taught the world a lesson or two about the essentials of democracy, the importance of simple humanity and what it takes to be a true, proud nation. But alas, it surely isn't a definitive one.
Ivan Descartin
Super Reviewer
A Dangerous Life Quotes
There are no approved quotes yet for this movie.